January 11, 2020
The story goes that SMS text messaging as a consumer service happened almost by accident.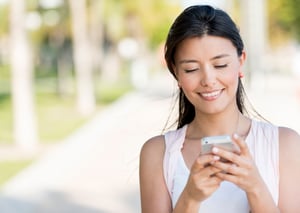 Originally developed as a way for mobile network engineers to communicate, SMS texting was slowly rolled out to consumer markets, with what seems like low expectations. At first it was expected to be used by a few business executives as a two-way pager system for very important messaging while on the go.
But then in 1999 and 2000, consumer SMS text messaging exploded.
And now two decades in, text messaging is identified as a preferred way for many consumers to interact with businesses.
Surveys show that today 75 percent of consumers are happy to communicate with companies via SMS messaging.
So how are business taking advantage of this popular and important customer communications channel?
One highly efficient approach is to integrate SMS texting with the collaboration tools that are already used by employees.
For example, the Tango Networks SMS Texting Solution for Cisco Collaboration service enables employees using Cisco Jabber and Webex Teams to send and receive SMS text messages with anyone on any mobile phone.
That means a Cisco Collaboration solution deployment suddenly becomes an important communications channel for reaching customers, partners and others outside the company,
Our SMS enablement service converts Webex Teams or Jabber messages into external SMS and places them on the mobile network, where they are transmitted to the intended recipient's mobile phone. Inbound messages are likewise converted back to Jabber or WebEx Teams instant messages.
The messages are sent and received from the employee's business phone number, so no personal numbers are exposed or used with the communications. The entire solution is seamless and intuitive, requiring no special apps or configuration changes by employees. It provides:
True single number communications, eliminating texting from personal phones as a way for communicating with customers.

Protection of the employee's personal number because SMS texts come from the business phone number.

Fully hosted, cloud-based subscription service – no software or hardware to buy, install or maintain.

Integration with communications recording and monitoring tools for monitoring, logging, recording and archiving for compliance.

Mobile-X from Tango Networks is the centerpiece of a wide range of use cases, including Mobile Unified Communications, mobile workforce communications, and programs for remote working, work from home, telecommuting and business continuity.
Are you a Cisco reseller? Click here to learn more about reselling our Cisco Collaboration SMS texting solution.
Get in touch with us today to see how our SMS Texting Enablement Solution for Cisco Collaboration will create new conversations with your customers and partners. Fill out the form below to learn more and arrange a personal demonstration.