February 25, 2019
Tango Networks is unveiling the industry's first Global Private Mobile Network at Mobile World Congress in Barcelona.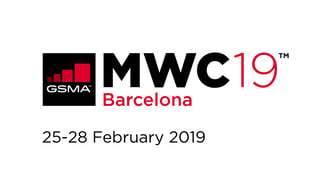 Join us at stand 6I28 at MWC19 starting today to see a demonstration of our groundbreaking new service, Mobile-X.

Mobile-X is the first service to put control over mobile voice, messaging and data directly into the hands of your enterprise IT team.
It means you directly control mobile communications - voice, messaging, data - for all employees in any location on any device.
Mobile-X from Tango Networks is the centerpiece of a wide range of use cases, including Mobile Unified Communications, mobile workforce communications, and programs for remote working, work from home, telecommuting and business continuity.
Mobile-X was created by combining Tango Networks' award-winning call control technology with the SIM-based global mobility solution from the acquisition of Simetric Telecom.
A "Global Private Mobile Network" is a global communications fabric for all of your company's mobile users.
Instead of relying on a messy patchwork of regional mobile operators, you directly control your users' mobile communications like never before. When you subscribe to the service, there is one consistent mobile subscription to cover all employees worldwide.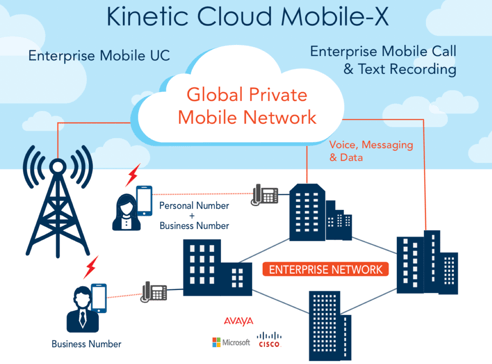 Your IT team has direct, granular control over mobile voice, messaging and data communications for each employee. You can route communications traffic for compliance, control costs, ensure policies are met.
Native communications on employee mobile devices are driven directly by your enterprise's unified communications platform.
That means you can do away with the hard-to-use, poor quality VoIP apps that your employees always ignore.
Instead, your employees operator their native phone interfaces for all business communications, including features like interoffice dialing. It's true Mobile Unified Communications.
Kinetic Cloud Mobile-X also integrates mobile communications with your compliance tools, including monitoring, recording and archiving platforms.Now your mobile, distributed workforce can be fully in compliance with recording and archiving regulations and customer service quality assurance processes.
See for yourself
Now you can see why we are so excited about this new service. It solves for the first time the unmanageable mess of mobility that so many companies are forced to deal with today.
We're demonstrating Mobile-X this week at Mobile World Congress in Barcelona. Want to meet up there and see it for yourself? Just click here or fill out the form below.
Or if you would prefer, we can give you a personal online demonstration today. Contact us to learn more about how Mobile-X will revolutionize mobility for your distributed workforce.
Learn More