June 19, 2020
Making money with mobile is the new business opportunity for communications and IT resellers. Our Mobile-X mobile communications service enables you to provide your customers with sticky new services they need in the new normal for remote teams.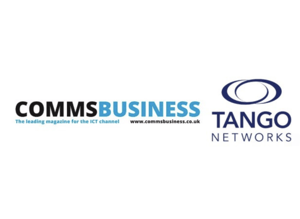 With more businesses working remotely than ever before, mobile communications are now essential to smooth operations.
And since home broadband is inconsistent across many territories, remote workers often rely on mobile communications to ensure secure, professional lines of communication. And that's where Mobile-X makes a huge difference.
On July 23, Andrew Bale, General Manager of Cloud Services at Tango Networks, will join David Dungay, Editor of Comms Business, on a webinar to demonstrate just how Mobile-X can help your business tap a whole new revenue stream.
It's free to register for the webinar. Just follow the link to the Comms Business registration page: https://view6.workcast.net/register?cpak=3356694180198349&referrer=Tango
What makes Mobile-X different?
Tango Networks' Mobile-X is the industry's first offering combining business-class mobility features in a turnkey, channel-ready service that is simple to integrate into your other offerings.
Mobile-X is sold exclusively through our reseller partners, including CSPs, ICT resellers, system integrators and others.
New cloud-based communications control and SIM technology are combined in Mobile-X to put native mobile communications into the hands of our channel partners and their business customers for the first time.
This is not simply bundling a consumer-grade mobile service into your offerings. This is a mobile service that gives you direct native control over real-time mobile communications including voice, text and data.
Traditional over-the-top Unified Communications mobile phone apps cannot deliver truly business-class communications, which is why they are almost universally ignored by users.
Mobile-X is the industry's first service to enable users to enjoy a native phone experience while operating business features and communicating to and from their business numbers. Mobile-X even enables communications to be recorded for compliance and quality control.
Mobile-X is easily re-brandable with your brand, giving you an incredibly powerful customer awareness tool – your brand name constantly displayed the phone's network name display.
Mobile-X enables your business customers to have a single mobile subscription to cover all their users in all their geographies and to provide them a single SIM that works on any network in any location.
Mobile-X supports a wide range of use cases for your business customers. Now workers anywhere can have seamless corporate communications, including Mobile Unified Communications, work-from-home, remote worker, teleworker, telecommuting, connected worker and business continuity programs. The solutions are made possible by the most advanced implementation of fixed mobile convergence technologies for the distributed workforce.
If you want more information about adding Mobile-X to your customer offering, register for the webinar https://view6.workcast.net/register?cpak=3356694180198349&referrer=Tango