March 8, 2022
A new generation of fixed mobile convergence technology is enabling companies to ensure workers have business-quality communications no matter where they work.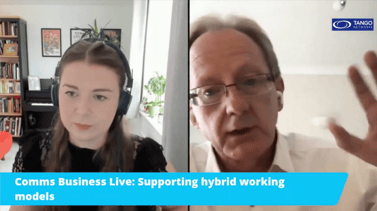 Tango Networks Executive Vice President Andrew Bale recently explained the hybrid work challenge to Comms Business magazine, a leading media brand covering the UK's ICT Channel. A clip of his interview can be viewed at https://www.youtube.com/watch?v=9shypeTHMdA.
"Hybrid working really is how do we bring together in an effective fashion the skills of working remotely and the skills of working together," Andrew said.

"And the most powerful technologies are available to us to do that today. And those really are the mobile technologies, which allow us to take these sophisticated collaboration tools and use them wherever we want.

"The mobile network is the most extraordinary machine that mankind has ever built. The global mobile network is the biggest and most complex communications tool we've ever had and businesses need to learn how to use that effectively."
The key to supporting the new work-from-anywhere world is to adopt the new generation of fixed-mobile convergence that integrates the native mobile phone into a corporate communications platform.
"This fantastically powerful network has been a closed box," Andrew explained. "The mobile operators have basically built the same thing for my 17-year-old son as they've built for the chief executive of Barclays. And my son uses it for playing games and watching videos and that's not what the chief executive of Barclays wants his people to use their mobile phones for."

So a new breed of mobile technologies, "which are far more open, which actually allow the integration of mobile natively, using all of this fantastic capability of the mobile network" and allowing integration into a company's environment is now available, he said.
"And that requires the channel partner to be involved. It requires new forms of systems integration, the integration of mobile services into enterprise IT environments, which of course increasingly are moving to online web-based services."
The Mobile-X service from Tango Networks is the industry's prime example of native mobile communications that are integrated directly into a corporate Unified Communications deployment.
The service's native fixed mobile convergence technology allows employees' mobile devices to operate just like desk phones, with all the expected business features such as forwarding, hold and conferencing.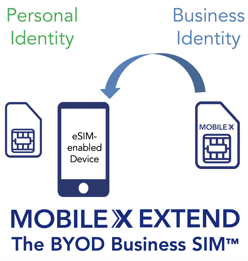 Our new Mobile-X Extend offering even allows personal BYOD devices to be used for business while keeping personal communications and business communications completely separate and secure. Extend embeds a business line in a personal phone by giving the business secure control over a SIM in a multi-SIM phone.
Businesses use Mobile-X for Mobile First and Mobile Only communications, and work-from-home, hybrid and work-from-anywhere flexibility. It brings fully integrated business communications to mobile employees and deskless employees.
Mobile-X is available only through our channel partners. Want to learn more about Mobile-X or reseller opportunities? Fill out the form and we will be in touch: