September 22, 2020
A leading UK-based channel UC and cloud provider, Pragma, launched a new Cloud Mobile service in partnership with Tango Networks.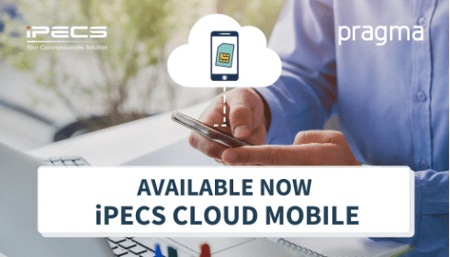 Pragma's iPECS Cloud Mobile (iCM) delivers the functionality of iPECS Cloud onto a mobile handset native dialer. This removes the need for an additional mobile app, users can dial extension numbers, be members of hunt-groups, record calls and experience the same functionality as an iPECS IP handset on iPECS Cloud from their mobile phone by installing the iCM SIM.
Andy Herring, Product Marketing Manager at Pragma commented: "2020 has become the year for home working and getting used to working within virtual environments. As a result, launching iPECS Cloud Mobile into our Reseller channel will enable Pragma Partners to continue to be at the forefront of Cloud telephony offerings by delivering iPECS Cloud functionality to a remote mobile user.
"Our partnership with Tango Networks enabled us to put in place the foundations for a mobility service that will continue to grow and evolve with iPECS Cloud delivering great features for the end user and opportunity for our reseller channel."
Our head of channels in EMEA, Philip Hesketh, commented: "Pragma is one of the leading lights in the UK Cloud Telephony channel. The opportunity to work with them to further strengthen their feature-rich Cloud platform was a no-brainer. In Pragma, we see a Partner and a Cloud Platform that perfectly fits our strategy for growth and development over the next 5 years and beyond."
Featuring the most advanced implementation of fixed mobile convergence technologies, Mobile-X from Tango Networks supports many use cases for a distributed workforce, including Mobile Unified Communications, mobile workforce communications, and programs for remote working, work from home, telecommuting and business continuity.
Read more about Pragma's announcement here: