August 22, 2018
A new research report from 451 Research identifies "Second Wave Mobility" as the emerging trend of mobile technologies and services that are focused on enterprise communications needs.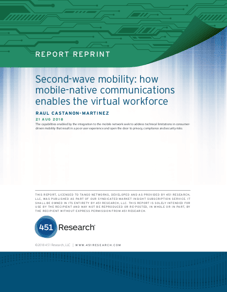 The first wave of mobility was consumer-driven, according to the new report by 451 Research analyst Raúl Castañón-Martínez. But "Second Wave Mobility" is now emerging and it is focusing on mobile business users and the IT staffs that support them.
"Consumer-driven mobility has led employees to rely increasingly on mobile devices for business purposes," the report says. "A significant volume of business communications is now conducted on mobile devices, but the lack of integration between mobile networks and enterprise IT systems means mobile and traditional business communications sit side by side, with IT managing them as separate entities."

Tango Networks is identified in the report as a key player driving the trend of Second Wave Mobility.
Mobile-X from Tango Networks brings next-generation fixed mobile convergence technologies to communications for the distributed workforce. Now workers in or out of the office can have seamless corporate communications, including Mobile Unified Communications, mobile workforce communications, and programs for remote working, work from home, telecommuting and business continuity.

Click here to download a complimentary copy of the new report.
451 Research also is hosting a webinar in September to focus further on the topic of mobile-native communications.

The webinar will take place live at Noon Eastern on Thursday, September 20, 2018, and registration is open now. This webinar will explore the advent of enterprise-focused, Second Wave Mobility, including:

Moving control over services and policy enforcement into enterprise IT's hands.
Integrating mobile communications with enterprise applications such as Customer Relationship Management, Workforce Optimization, Customer Experience Management and others.
Mobile Unified Communications, "Mobile Native" and "Mobile First" communications strategies.
Managing multiple user identities and personas, for separating business and private communications

.
Advanced applications such as sending and receiving text messages using business numbers.
Cloud-based mobility architectures, private wireless and mobility models such as Private LTE.

The webinar will feature analysis and market trend data presented by Castañón-Martínez of 451 Research. Andrew Bale, General Manager of Cloud Services for Tango Networks, will present case studies and use case examples of Second Wave Mobility, including unveiling Tango Networks' new enterprise mobile communications service and messaging application.