December 15, 2021
New mobile phone technologies are ushering in a new generation of Bring-Your-Own-Device (BYOD) options for businesses.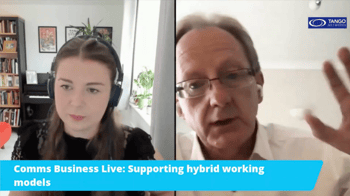 In particular, modern phones supporting eSIMs will enable BYOD to be truly business ready for the first time.
Tango Networks Executive Vice President Andrew Bale recently talked to Comms Business magazine, a leading technology channel publication in the UK, about eSIM as a key transformative technology that the channel should embrace.
View a clip of his interview with editor Charlotte Hathway at https://youtu.be/aeA75T8WTuk
"That's been a really difficult market for a long time because of the diversity of mobile devices and the inability to support multiple communications services on a single device," Andrew says, detailing why BYOD has been a headache in many ways for IT departments in the past.
While there are clear cost advantages from permitting employees to use their personal devices for work, the security and management concerns can outweigh the benefits. In addition, employees communicating with customers and partners with personal numbers creates an unprofessional appearance for a company.
But eSIM changes the dynamic by simplifying the activation of business line service on a personal mobile phone.
"So you've got both your personal line and your business line on the same device and those are well managed within the Apple and Android ecosystems," Andrew says. "We have the opportunity for channel partners to build solutions which can be very quickly applied to an employee's own phone."
The ability to use modern devices with multi-SIM capabilities will be transformative for businesses to allow employees to use their personal devices, but also have very secure business communications on those devices, Andrew adds.
Another significant change to the market, he says, is around the practice of many enterprises to provide business-owned mobile phones to employees. That can be a very expensive proposition and difficult to manage. Merely determining which devices to provide is a challenge, Andrew explains.
BYOD that is secure, controlled, compliant with recording requirements, and auditable by the company can address the challenges and cut the expenses and headaches of company-provided mobiles.
The Mobile-X Extend service from Tango Networks is the industry's first solution to fully leverage eSIM technology for embedding a business line into an employee's personal mobile phone. The turnkey service permits employees' mobile devices to operate just like desk phones with all needed business features.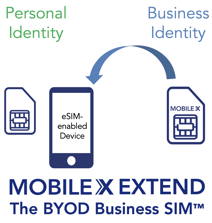 But importantly Mobile-X Extend requires no apps to install or manage on employee phones. Instead, it gives the business direct control over a SIM in the device. That means the user can operate business class communications with business features and business numbers while using the phone's native interface.
Mobile-X is used by businesses for Mobile First and Mobile Only communications, and work-from-home, hybrid and work-from-anywhere program. With Mobile-X, businesses can expand mobile communications to mobile employees on-the-go, deskless employees and first-line workers.
Mobile-X is built on advanced Fixed-Mobile Convergence technology covered by more than 90 patents.
Mobile-X is available only through our channel partners. Want to learn more about Mobile-X or reseller opportunities? Fill out the form and we will be in touch: