October 18, 2019
More and more businesses are recognising the business benefits of moving to a cloud-based Unified Communications platform.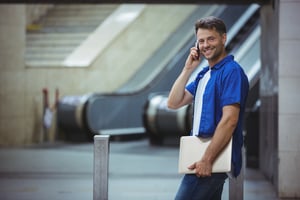 Easy to adopt, easy to use, these powerful business tools help businesses keep in touch with their customers, and help employees collaborate more effectively – particularly when they are out on the road.

Mobility – making a UC service easy to use on a mobile phone – is therefore critical to the success of a cloud-based UC service.

Today, there are two competing ways of connecting a mobile phone to a UC platform.
The first is easy to do: run an app on the phone. It's like carrying a softphone in your pocket, and running your voice over the mobile data network. Any smartphone can support a mobile app, and they work increasingly well.

The second is to integrate your UC platform with the mobile network, making the mobile phone a native part of your UC platform. Up until now, this has only been possible for mobile operators themselves – or for Service Providers with very deep pockets ready to invest in deep integration with a mobile operator.

With the advent of Tango Networks' Mobile-X, this is now open to any Communications Service Provider – you can now offer mobile integration directly into your Unified Communications Service.
So what are the benefits of this?

With a Mobile app, the user gets to choose whether to make calls using their app, or the native dialler of their phone.
Choice is good isn't it? But the problem is – they generally don't choose the app. Research by many industry analysts shows that only a tiny fraction of mobile UC apps that have been deployed to company phones are ever used.
And the result of this is that all of the benefits of your UC platform are lost to your customers.
How to Lose a Customer in Four Easy Steps
Jim is a regional account manager for a building supplies company – let's call them Best Building Supplies Inc. BBS sell to all the largest home builders in the area, and Jim often spends days on the road talking to his clients.

Jim is looking to strike a deal with Bob, one of his new clients. Jim calls Bob to set up a meeting – and unfortunately calls him straight from his mobile phone.
They have a good call, and Bob stores Jim's number for future reference. Later in the day Bob calls back wanting to talk to Jim's technical rep. Jim answers the call, but can't transfer Bob – because he's just calling on his mobile phone – no call transfer there!!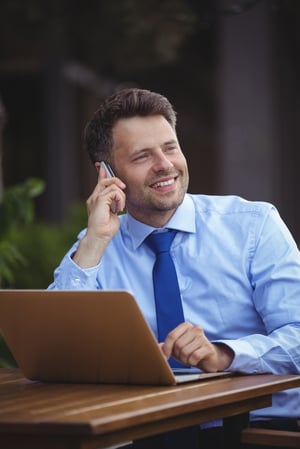 Jim has to read out a new number for Bob – who is traveling, and doesn't have a pen to hand. Not a great experience for Bob.
Bob calls Jim's number again, hoping to be put through to reception, but Jim doesn't pick up the call, which goes straight to voicemail. No chance to be put through to another department.
Eventually Bob gets the information he needs, and Jim and Bob agree on a price of $150 for a consignment of building material. Except that Bob thought it was $120. Normally Jim has call recordings of all conversations for future reference – a great feature of their UC platform. But not in this case, because there's no call recording on mobile!!

Jim's VP of Sales, Mike, likes to keep an eye on the responsiveness of his team – how quickly calls are answered, what the user experience of his customers is. Mike has a set of nice reports run each week from the UC service. But he doesn't see any of the calls between Jim and Bob – no reporting on mobile phones!!

Eventually Jim decides to leave BBS and join a competitor. A few weeks later, Bob calls Jim's number – not knowing that Jim has left BBS – and Jim persuades him to leave BBS. Mike has lost a major customer to his competitor – and didn't even know how.
The Power of Integration
An integrated mobile phone service brings power back to the UC platform. Mobile apps leak calls – breaking business processes, impacting user experience, and jeopardizing the investment case for using the UC service.
Enabling mobile communications to be driven by the UC platform is exactly what our Mobile-X service does. It truly is the best of both worlds, providing network native and device native experiences for users with seamless integration with the business's UC platform and call recording solution, among other applications. The service also enables teleworking, remote working, virtual workplaces and work-from-home programs that are increasingly critical to the operations of many businesses.
Drop us a note at sales@tango-networks.com to learn more. Or fill out the form below.