March 2, 2018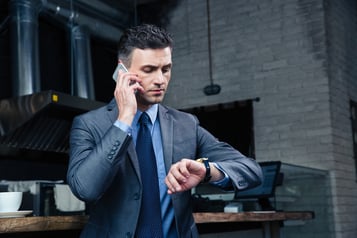 Think of all the ways that mobility can complicate your business communications.
Companies want to take advantage of more flexible and productive workers, as well as benefit from cutting hardware and support costs.
But concerns quickly arise when considering company and industry compliance policies, recording and privacy requirements.
Going Mobile First
Many of us have cut the cord at home, and now people want to do the same at work.
A large percentage of employees say they want to telework at least part time. They want the flexibility to work at any time or from any place.
Companies worldwide are capitalizing on mobility to improve employee responsiveness and productivity.
But empowering and taking advantage of this mobility presents a number of challenges, including corporate identity management, call forwarding, call monitoring and quality assurance processes, ensuring these devices are in scope for your customer engagement program.
Compliant Communications
Mobile devices are typically outside the scope of your compliance and recording tools that have been established for landline phones.
How do you ensure that mobile communications are compliant with recording and archiving laws?
In many industries, recording and archiving communications are an essential part of doing business. The European Union's newly implemented Markets in Financial Instruments Directive, commonly called MiFID II, requires financial services firms to record calls related to certain financial transactions. UK financial regulatory authorities have adopted similar regulations.
Another major hurdle comes in when ensuring the employee's personal communications are not breached. For example, the General Data Protection Regulation (GDPR) that goes into effect in Europe in May 2018 mandates that individuals have rights protecting private communications.
BYOD
Workers also want to use the devices they're familiar with.
It's increasingly a Bring Your Own Device (BYOD) world, with employees wanting to use the devices that they know and love.
Permitting employees to use their own personal devices for work can further cut hardware costs and support costs, while enabling the workforce to be increasingly mobile.
But how do you ensure these communications carry your corporate identity and follow the compliance rules?
A challenge arises with considering how to meet recording and archiving compliance for mobile communications while striving to take advantage of ubiquitous personal devices. Mobile communications like mobile network native voice and SMS text generally are outside the IT department's direct control.
And it is well known that asking users to adopt clunky and poor-quality communications apps that are often offered for unified communications is rarely successful.
The Kinetic Cloud
The easiest way to address these concerns is by making your employees' mobile phones part of the communications systems you already control. Just take the device and the location out of the equation.
With Mobile-X from Tango Networks, you have direct control and the ability to enforce policies on mobile devices. You can manage them exactly as if they are desk phone extensions of your communications and compliance systems.
Capabilities of the Mobile-X platform include:
Mobile phone = desk phone: Any mobile phone is integrated by Mobile-X into your existing communications systems, including on-premises, cloud-based or hosted communications. The mobile devices become extensions of your systems allowing you to enable features and policies to be operated on mobile phones with the native device interfaces, including BYOD.
Dual identity management: Employee work mobile calls are routed through your enterprise systems so that they carry your corporate identity and promote more professional and efficient work communications. But, importantly, your employees' personal calls remain private because they are routed through the mobile network and not through corporate systems.
Compliance & quality: Mobile-X also lets you ensure workers are in compliance in professions where call recording and archiving are required. Mobile-X lets you record users' mobile calls using the same compliance systems you use for landline desk phones.
With Mobile-X you keep up with and benefit from the mobile workforce trend while giving users the ability to work when and where they want to, without sacrificing control or communications compliance
Mobile-X from Tango Networks is the premier communications solution for companies implementing work-from-home, remote worker, teleworker, telecommuting, connected worker and business continuity programs.