February 14, 2019
The past few months here at Tango Networks have been some of the most exciting times I can remember in my career.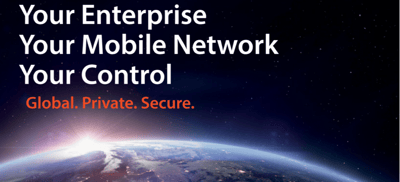 A vision that I've been working towards for ten years is finally coming into concrete shape, and we're planning to launch on to the market a product which I believe has the potential to reshape the way businesses use their mobile phones.
Mobile phones – the whole mobile industry – is something like magic.
The idea of being able to carry around a sleek little device that links me to all the knowledge in the world – that allows me to do my business wherever and whenever I want: it's like something from The Jetsons.
And it just keeps getting better.
Every year the mobile industry surprises us with new superlatives: faster internet connections than I can get on my superfast fiber broadband at home; security that allows mobile phones to be used by emergency responders for critical communications just as easily as kids watching youtube; five million apps to download on to my phone – and counting.
Billions of dollars have been invested by the industry in devices, cell towers, mobile core networks, global links and all the rest of the techie stuff that makes it all work ... 2G, 3G, 4G, and now 5G.
And yet …
And yet, for an enterprise, all of this comes at a high cost.
Unlike every other piece of technology that the CIO has at her disposal, mobile communications is largely uncontrollable.
How, when, where phone calls are made – who is calling whom, and what to do if the caller can't reach the right person – the CIO can't do anything. Nothing. Nada. Can't see it, can't stop it, can't improve it.
How much data a user is using, and when and where – and why! Again. Out of luck.
So there's a whole industry grown in what we call "over the top" controls. Mobile Device Management to try to lock down mobile phones. Soft clients to try to force phone calls into the company phone system.
None of it works very well, and all comes at a price. It costs in convenience, in battery life, in complexity – and often doesn't achieve much in the way of success.
An analyst I talked to recently told me that in his customers, most companies had put in a mobile voice client – but less than 5% of the time were they used. And this means – we're back to the dark ages of phone calls being completely out of the visibility of the CIO.
There has to be a better way!!
Tango has been building towards this better way for the past fifteen years. Building the technologies and capabilities to tame the mobile tiger. To bring the mobile network itself – not just the phone, but the actual smarts in the core network – under the CIO's control. To bring mobility into the modern world.
And this vision is being announced today in our own, global, enterprise-focused mobile network, Mobile-X.
A core mobile network available everywhere in the world, where the CIO controls every aspect of the service: who can use a mobile phone, where, how, and to do what.
A clever dance of technologies that talk to the mobile network, and to the enterprise applications and crafts policies to integrate the mobile phone into the company's applications and services. Not an Argentine tango, but an "Enterprise Tango".
Mobile-X from Tango Networks brings next-generation fixed mobile convergence technologies to communications for the distributed workforce. Now workers in or out of the office can have seamless corporate communications, including Mobile Unified Communications, mobile workforce communications, and programs for remote working, work from home, telecommuting and business continuity.
We'll be taking this to Barcelona, to the Mobile World Congress – the world's stage for mobile technologies. And I for one am waking every morning more excited about the journey we're going on.
If you'll be at Barcelona – come and see us. If not, call me and we can chat.