March 22, 2022
The Mobile-X Extend service has received an industry award as a groundbreaking solution for work-from-anywhere business communications.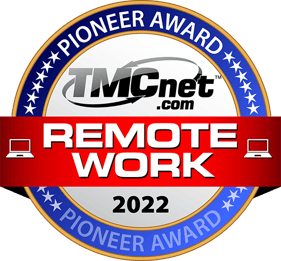 TMC, a global, integrated media company, has named Mobile-X Extend as a 2022 TMCnet Remote Work Pioneer winner. The award honors companies whose solutions support the massive increase in remote working brought on by the coronavirus pandemic.
The Mobile-X Extend service turns an employee's mobile phone, including personal, Bring-Your-Own-Device (BYOD) phones, into a secure, controlled extension of an employers' business communications system."Today's work-from-anywhere world demands business quality communications that are extremely simple to use in any location. We built Mobile-X Extend to meet this need," said Douglas Bartek, CEO of Tango Networks. "Extend enables employees' personal, BYOD mobile phones to contain company-controlled business lines. Employees can make and receive business calls and texts with no special apps or training, while Extend keeps business and personal communications separate and secure."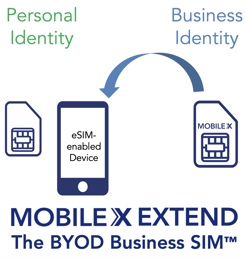 Using breakthrough fixed mobile Convergence technology, Mobile-X Extend enables every employee to carry the equivalent of a full-featured business landline desk phone in their smartphone.
But unlike earlier generations of business mobile communications, Mobile-X requires no special apps to be installed on the phone or special training of users. The service is native to the device, permitting employees to use their devices' native interfaces for standard business features.
Mobile-X Extend does this by turning one SIM in an eSIM-enabled phone into a business line controlled by the company. Business calls and texts use that line and can be captured and recorded for compliance or quality assurance. Meanwhile, all personal calls and texts on the BYOD phone remain separate and private.
Covered by more than 90 patents, the Mobile-X service has won eight industry awards recognizing it as a breakthrough solution for Mobile Unified Communications. It is used by companies operating programs for working from home, remote worker, teleworker, telecommuting, connected worker and business continuity.
"Recognizing leaders in the advancement of remote working software, TMC is proud to announce Tango Networks Mobile-X Extend as a recipient of the Second Annual Remote Work Pioneer Award," said Rich Tehrani, CEO, TMC. "Tango Networks is being honored for their achievement in bringing innovation and excellence to the market, while leveraging the latest technology trends."
Click here to learn more about this exciting new award.
Mobile-X Extend is available only from our channel partners. Fill out the form to learn more and we will be in touch.