April 18, 2019
Enterprise mobile communications is increasingly crucial as businesses seek to maximize the productivity of their distributed workforces and employees on the go.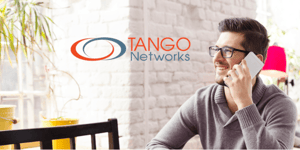 And the rise of Mobile Unified Communications is among the innovations driving the trend, according to an interview in UC Today featuring Tango Networks.

"Tango Networks is a company committed to taking mobile connectivity to the next level," wrote UC Today founder & publisher Rob Scott in the article. "The company delivers a mobile solution that empowers enterprises of varying sizes to improve the impact and reach of their communication solutions via any mobile device."
Rob interviewed Andrew Bale, our GM of Cloud Services, about how our enterprise mobility solutions tap the native mobile network communications features and functions. The result is a superior business communications experience.
"If you try to use data as an over the top solution for voice calls, you're not going to end up with a consistently good experience," Andrew explained. "That's why many companies are paying for UC applications that their people just aren't using."
In describing enterprise mobility use cases, the article outlines solutions such as Mobile UC, mobile communications call recording for compliance and others
Mobile-X from Tango Networks brings next-generation fixed mobile convergence technologies to communications for the distributed workforce. Now workers in or out of the office can have seamless corporate communications, including Mobile Unified Communications, mobile workforce communications, and programs for remote working, work from home, telecommuting and business continuity.
Check out the article here. Or fill out the form below to learn more about our new Mobile-X solution for better enterprise mobility.
Tell Me More About Enterprise Mobility with Mobile-X