April 27, 2018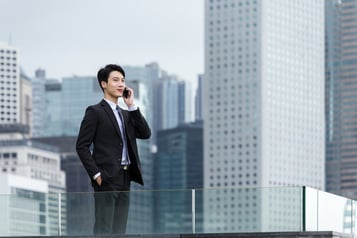 Smart enterprises are being proactive about communications compliance as they implement mobile communications in their environments.
Rather than face a barrage of compliance or archiving requirement problems mid-stream, they're finding ways to be ahead of the curve and enable mobile call and text monitoring, recording and archiving when it is required by regulations or quality assurance processes.
Many companies are starting to implement compliance from the outset of an enterprise mobility program. By doing so, they're taking full advantage of the benefits of a more mobile workforce while ensuring compliance regulations are met every step of the way.
These businesses are well prepared to make the process easy for users, by enabling them to use mobile phones as extensions of the corporate landline systems. When personal phones are permitted, these companies put in place policies and tools that can guarantee employee personal calls are kept private while work calls are captured and compliant.
Here are four tips for enabling mobile communications compliance.
Tip 1: Plan for BYOD and enable recording for it
Many companies are choosing to cut hardware and support costs by allowing Bring Your Own Device (BYOD) programs. They also increase accessibility and responsiveness because employees always have these devices at hand and know and like using phones that they have chosen for themselves.
The employee already knows and likes his or her own device, and therefore adoption of business-related requirements that fit what they already know is practically guaranteed.
Headaches are averted when companies plan ahead for how to meet recording and archiving compliance requirements on BYOD devices, which are typically outside of the IT department's control.
Tip 2: Use mobile-native communications, not messy over-the-top apps
User experience is central to ensuring that your employees will actually adhere to the compliance requirements. That means making compliant communications as intuitive and simple as possible.
So the most effective IT planners avoid requiring employees to use confusing apps that lead to frustration and poor adoption.
The answer lies in adopting approaches that can integrate mobility into the existing systems for UC and compliance, so that whenever possible the native phone interface can be used to place work calls on corporate systems.
Tip 3: Deploy dual persona management to keep work and personal communications separate
Diligently guarding user privacy upfront is essential to comply with regulations such as the General Data Protection Regulation (GDPR) that goes into effect in the EU in May 2018.
"Dual persona" management involves policy enforcement that keeps business and personal communications separate and discrete. The mobility system should route business calls to corporate UC and compliance systems while permitting personal calls to remain private and external to corporate systems.
Tip 4: Integrate mobility into your existing communications and compliance systems
The most effective compliant mobility programs bring it all together by integrating employees' mobile communications with existing UC and compliance systems with a single point of management spanning all of them.
This mobility integration provides simple and consistent communications control across regions, operators, applications and devices.
Tango Networks' Mobile-X
Mobile-X is the first cloud-powered service enabling enterprises to control their employees' mobile communications as easily as they control landlines.
The solution enables the use of native mobile phone interfaces for a range of business communications features. Mobile-X also enables the user to present the landline business number to the called party on either business-owned or BYOD mobiles.
Mobile-X permits you to enforce mobile call recording and text recording for employee phones using the same recording and other compliance systems you use for landlines.
Compliance for personal calls is confirmed at the outset. Your systems never process the personal communications and privacy protection is certain.
Featuring the most advanced implementation of fixed mobile convergence technologies, Mobile-X from Tango Networks supports many use cases for a distributed workforce, including Mobile Unified Communications, mobile workforce communications, and programs for remote working, work from home, telecommuting and business continuity.