February 2, 2023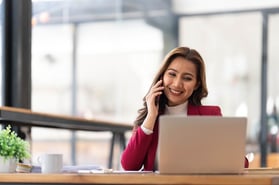 You know how you sometimes hear a recording, "This call is being recorded for quality assurance"? It's done so companies can help their employees provide the best customer service to the people who call and improve their training and processes at the same time. For some businesses, it's more than assurance – it's a regulatory requirement to record calls and messages.
The Need for Mobile Compliance And What We Do About It
As working practices change, more employees are working remotely and using their mobile phones for business communications, so it's paramount for companies that are trying to improve customer service to monitor calls from cellular phones, not just from desk phones. Mobile phones (and the apps on them) can be either company-issued or an employee's own personal phone (sometimes called Bring Your Own Device [BYOD] phones). This wasn't as big a deal pre-pandemic, but once COVID forced so many to work at home, it has become normal for employees to use their personal cell phones to conduct company business.
"The mobile industry has changed everything, made our businesses much more efficient, allowed us to work wherever we are," Tango Networks President Andrew Bale said on the Tango Talk podcast. "For the business, the mobile phone is a two-edged sword. In some cases, it's really difficult to control how your employees use mobile phones and at the same time integrate the mobile endpoint into existing business processes."
Perhaps unfortunately, most organizations think that only calls to and from desk phones, customer service, and customer relationship management (CRM) systems, and, to a lesser extent, voice over internet protocol (VoIP) apps on mobile devices can be recorded. That is not true. In fact, it is now possible to capture mobile phone interactions as well using the same recording platforms that businesses already use.
Compliant Mobile Communications
Unified communication (UC) apps provided by organizations for voice calling do indeed route calls into the recording system, but end users are very likely to use their native phone dialers instead to make calls because it's easier and more reliable, which bypasses the UC system and, therefore, fails to record the calls.
For financial institutions, this behavior can lead to significant penalties, as there are regulatory requirements for their employees to record all calls and messages, regardless of the device used to communicate.
The bottom line is this: There is a compelling business need for many organizations to properly capture, record and store mobile phone communications.
"The market needs something new: the ability for people to use their mobile phone but to have on that phone a business identity and communications service paid for, managed and controlled by the business that has nothing to do with the rest of the employee's personal communications use," Bale said on the Tango Talk podcast.
Fortunately, we have a way to enable this.
Tango Extend
Called "Tango Extend" and available through our Cloud Service Provider (CSP) partners, we ensure that all mobile calls made from the native mobile dialers are routed through the existing UC platform, thereby putting the business in control of communications outside the office. By doing this, the business can meet its quality and regulatory requirements to ensure that it is fully compliant and in control of its service improvements.
Essentially, we embed a full-featured business extension on any smartphone or company phone that delivers simple, app-less Mobile Unified Communications (Mobile UC) so you can work from anywhere. Mobile UC is a unique combination of business-class mobile communications and UC technologies that empower a workforce wherever employees work, whether in the office or remotely.
Ensures simple mobile provisioning using state-of-the-art eSIM technology
Integrates mobile phones as an endpoint in many different types of UCaaS or other unified communications platforms.
Records and captures voice calls and texts on Company provided or personal (BYOD) mobile phones.
Identifies all business communications with business ID and numbers.
Ensures personal communications are separated from Business use.
Eliminates the ability to turn off or circumvent policy enforcement.
Boost compliance with Dodd-Frank, FCA, and other regulations.
Recording all mobile calls and texts ensures compliance with all regulations, risk management requirements, and organizational policies. In short, Tango Extend is the Business SIM, making mobile phones truly business ready for the first time.
"We can blend that mobile phone into any cloud-based unified communications platform and make mobile communications, for the first time, a real integrated and native part of a customer's communication strategy," Bale said.