October 22, 2021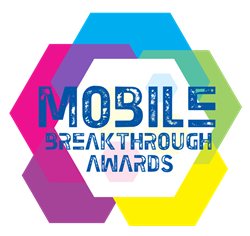 It's the second year in a row that we have won an award in the competitive program run by Mobile Breakthrough, a leading independent market intelligence organization that recognizes the top companies, technologies and products in the global wireless and mobile market
Now in its fifth year, the award program recognized our Mobile-X Extend, which is the industry's first BYOD Business SIM™, embedding a business line under control of the business in any employee's eSIM-enabled mobile phone.
The service utilizes next-generation fixed-mobile convergence technologies to enable companies to bring Mobile Unified Communications (UC) to their employees working remotely, in the office, or anywhere they happen to be.
James Johnson, managing director, Mobile Breakthrough, said, "In today's hybrid work environment business users clearly need a native phone experience for business communications and ideally one phone to carry around, and Tango Networks is positioned to be a leading force in this category."
With Mobile-X Extend, a business can cut landlines and the huge expense of buying, managing and upgrading company-paid mobile phones.
These measures reduce the company's carbon footprint while shrinking administrative overhead and expenses. The solution eliminates costs and hassles of managing expense claims for business calls on personal mobile phones.
The service is mobile native, using the mobile network and the device's native interface for all communications and features. That means it requires no apps or special phone clients and no training. The service offers superior, business-quality communications not possible with over-the-top VoIP.
Mobile-X Extend is based on Tango Networks' Mobile-X service covered by more than 90 patents.
Businesses use Mobile-X for Mobile First and Mobile Only communications, and work-from-home, hybrid and work-from-anywhere flexibility. It brings fully integrated business communications to mobile employees, deskless employees and first-line workers, many for the first time.
Mobile-X Extend is available for customer pilots now and will be generally available in 1Q2022. The service is sold solely through Tango Networks' value-added resellers and communications service provider partners.
Fill out the form below to learn more about Mobile-X and Mobile-X Extend: