June 22, 2022
We have announced a major upgrade of the Mobile-X Extend service, including support for VoLTE and a new 5G-ready architecture along with tariff reductions.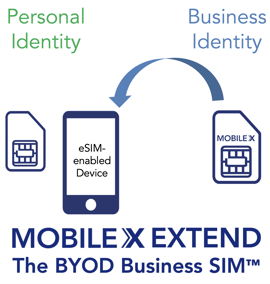 Our Extend service has won more than 10 prestigious industry awards for its unique approach to fixed-mobile convergence.
The Extend service enables business users on any mobile phone to embed a full-featured business line in their devices, including on Bring-Your-Own-Device (BYOD) personal phones.
The upgraded Tango Extend service announced today includes:
VoLTE support for carrier-grade voice communications with the broadest availability across served markets.
Faster call set-up times and more efficient network utilization for higher quality user experience.
A new IMS core service architecture ready for HD voice and 5G connectivity where available and a foundation for future migration to next-generation mobile voice, video, messaging and data services.
Lower latency data communications.
Along with these technical upgrades, wholesale tariffs for Tango Extend services have been decreased effective June 1 in the United States and later this year in the United Kingdom.
Tango Extend automatically integrates mobile phones into company communications systems, turning mobiles into business extensions and allowing users to operate their phones' native dialers for business calls without a separate UC app. This makes the user experience dramatically better.
The service has won numerous awards and praise from industry observers for its ability to automatically separate business and personal communications into dual personas on any multi-SIM mobile phone.
The service also enables business communications on personal mobile phones to be captured and recorded for retention and compliance.
Businesses use Tango Networks solutions for Mobile Unified Communications (Mobile UC), Mobile First and Mobile Only communications, and work-from-home, hybrid and work-from-anywhere flexibility. The solutions bring fully integrated business communications to mobile employees, deskless workers and firstline workers, many for the first time.
The service is sold solely through Tango Networks' value-added resellers and communications service provider partners.
Interested in getting Tango Extend for your workforce? Or want to explore opportunities to resell Tango Extend? Just fill out the form and we will be in touch: