December 27, 2019
In a few days we will mark the dawn of a new decade.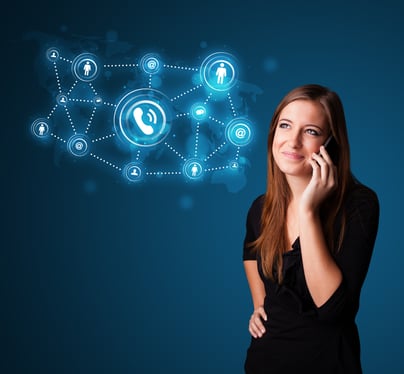 So it's a good time to reflect on how much has changed in the past 10 years in terms of how, when and where we work.
It's also a good time to remind ourselves how communications technology has evolved in that period to support these changes in workstyle.
Rewind to December 31, 2009, and we can see some important reminders of how mobile communications technology was used then and how it has evolved.
Smartphone Market Explosion
The iPhone was only two and a half years old in 2009. The hugely popular 3G version was less than two years old, as was the App Store. The first smartphone running Android was just over a year old.
Exactly how these new smartphones would fit into the business world was still a matter of speculation and gradual evolution. Remember that the main innovations of the iPhone were the melding of a phone with a camera, access to music and web surfing. (The selfie camera was still off in the future.)
These features were very much consumer oriented, as opposed to optimizing the devices and experience for business users.
Business mobile communications were still dominated by non-smartphone devices, except for the popular Blackberry which in 2009 was celebrating a decade on the market. The Blackberry had made email-on-the go an important productivity enhancer, turning the devices into favorites of many business users.
It would be half a decade later that the former co-CEO of Blackberry / Research in Motion would admit in public remarks at a book launch that the iPhone ultimately killed the Blackberry. "It was difficult. It was a real shock to the company," said former co-CEO Jim Balsillie about trying to compete against the iPhone.
A major part of the reason that the iPhone took off was the deal it struck with mobile operators that facilitated great data bandwidth for the devices, which in turn drove development of more useful and innovative phone apps to take advantage of these capabilities.
New Workstyles: 'I'll be working from home today'
These new mobile communications innovations combined with increasing broadband internet access availability to spark a major trend in remote working. Teleworking, remote working, virtual workplaces and work-from-home programs are increasingly critical to the operations of many businesses.
A worker at home on a broadband connection or in the local Starbucks on WiFi and with a smartphone could be accessible and responsive and get many things done as easily as in the office. The phrase "I'll be working from home today" became commonplace in many companies.
Researchers studied the trend of remote working and the emerging extended, distributed enterprise. Gallup, in its 2017 report on the state of the American workplace, declared remote working had reach a "tipping point" with employers and employees alike embracing and adapting to the new style of working.
Research conducted at Stanford resulted in astonishing findings about how remote working boosted productivity. Remote working had long been touted as having many positive impacts, such as reduced commutes for employees resulting in less traffic congestion and environmental impacts, as well as lower facilities costs for employers.
But Stanford professor Nicholas Bloom reported that his research found a huge, unexpected boost to worker productivity as well. His two-year research project showed that employees working from home generated on average a full extra day per week of productivity.
The New Enterprise Mobility
So as we enter the first days of the new decade, we can look ahead to how mobile technologies can further enhance the transition to distributed workplaces.
Part of the trend is cord cutting, the reduction or elimination of traditional landlines via a "Mobile First" or "Mobile Only" communications strategy that makes mobile devices the primary communications tool for employees. Accounting firm PwC made headlines when it made this shift for thousands of its employees.
The key to mobile-enabling the workforce and maximizing productivity is to ensure that mobile communications can be controlled directly by the enterprise, just like it controls other parts of IT and communications, such as traditional landlines.
That requires integrating mobile devices with the IT infrastructure and communications applications the enterprise uses, such as its Unified Communications platform.
One approach to this has been to install UC apps on each employee phone, to connect back to the UC server "over-the-top" by using the data communications capabilities of the mobile device.
But Industry researchers have shown consistently over the years that adoption of these Mobile UC apps is very low, even "practically nil" in the words of one industry analyst.
The problems with over-the-top Mobile UC include poor call quality, difficult configuration and usage, difficulty with capturing and recording calls and texts for compliance or quality control, and many other issues.
The solution is Mobile UC enabled by native mobile device integration.
Native Mobile Integration with UC for Better Mobile UC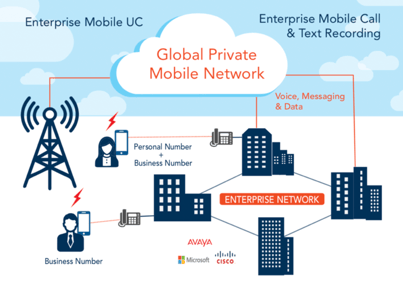 OurTango Networks Mobile-X service is the industry's first communications service that creates a private mobile network exclusively controlled by a company for maximizing productivity of its distributed workforce.
That means it puts control over the mobile device and the mobile network directly into the hands of company IT.
It provides:
One consistent mobile subscription for all of a company's employees, regardless of location or network used. We call this a Global Private Mobile Network (GPMN).
Native communications on employees' mobile devices driven directly by a company's UC platform. It does away with hard-to-use, poor-quality over-the-top UC apps.
Complete control over compliance, recording, security, routing and communications costs for all mobile voice, messaging and data used by employees.

A foundation for migration to 5G and Private LTE.
For these innovations, Tango Networks has been named a top UCaaS provider for two years running by Channel Partners magazine, and has been profiled recently in UC Today and Comms Dealer magazines.
Fill out the form below to learn more about Mobile-X and how it is revolutionizing enterprise mobility.