September 24, 2018

Don't miss Tuesday's web demo of the Tango Networks' Jabber SMS messaging solution.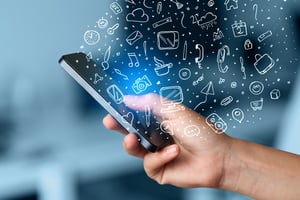 Just fill out the form below to hold your space.
Our Jabber SMS solution enables your Jabber users to communicate by mobile text messages with anyone on any phone
As part of our new Enterprise Text Messaging solution, the Jabber SMS solution creates a powerful new way for your company to engage with customers, partners and others.
Your team uses Cisco Jabber for internal message and collaboration. Now they can use Jabber to communicate by text message with external non-Jabber users on any mobile phone.
Plus your users can communicate by text from your business phone numbers.
Turn Jabber into an important new tool for one-on-one engagement with your customers and partners.
Also, Mobile-X from Tango Networks harnesses next-generation fixed mobile convergence technologies for better mobile communications for the distributed workforce. Now workers anywhere can have seamless corporate communications, including Mobile Unified Communications, work-from-home, remote worker, teleworker, telecommuting, connected worker and business continuity programs.
Fill out the form below to register for our web demo session of the Jabber SMS solution on Tuesday: