July 13, 2018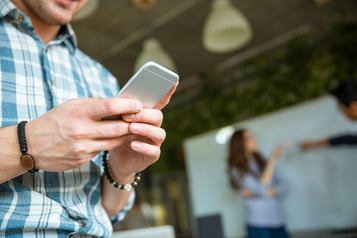 "Mobile First" is gaining more traction as the new mode of communications for enterprises.
For the last several years, enterprises in a range of industries have adopted a Mobile First communications strategy, meaning they make mobile devices the primary tools of corporate communications.
This makes perfect sense when you consider the ways that mobile devices have become ubiquitous in consumer markets.
The GSMA reports that the penetration of mobile phones now covers fully two-thirds of the world's population.
In many economies, such as the United States, mobile phone penetration is nearing 100%. Pew Research reports that 95% of US adults have a cell phone and 77% of them have a smartphone.
So a Mobile First communications strategy is recognizing that we have a mobile society and that can easily translate into a mobile workforce.
Enterprises that have successfully transitioned to Mobile First have enabled employees to be more reachable and more responsive, have enhanced work place flexibility, and have dramatically boosted employee productivity. Mobile First can also be a boost for teleworking, remote working, virtual workplaces and work-from-home programs that are increasingly critical to the operations of many companies.
Mobile First has also been described as a "mobile native" approach because it considers how your Unified Communications applications – voice, messaging, collaboration, etc. – are delivered, used and managed on mobile devices and in the mobile network, as opposed to landline implementations.
So what are the main considerations for an enterprise to go Mobile First? Here are examples and video demonstrations of the main requirements we have seen at Tango Networks:
Those are some of the basic requirements for going Mobile First and adopting communications applications like Mobile UC.
Beyond basic communications, going Mobile First can also unlock a range of new capabilities that significantly enhance your users' communications and their productivity. These may include:
Ready to see how Tango's solutions can help you go Mobile First? Click here to set up a personal demo.