January 20, 2020
A new wireless age is dawning and enterprises can look forward to new mobile communications more attuned to business needs.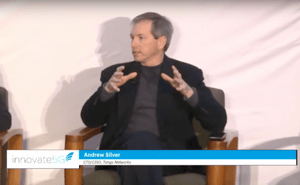 That was the chief message conveyed by Andrew Silver, Tango Networks' Co-founder, CTO and CISO, speaking at the recent Innovate5G conference in Dallas, "Investing in CBRS: LTE Today, 5G Tomorrow."
Private Spectrum, CBRS and 5G hold the promise of a major leap in mobile communications capabilities and performance.
And essential to the new wave of wireless services is the ability for enterprises to more directly control their employees' mobile communications, Andrew told the gathering.
The key issue, he explained, is that enterprises of all sizes - from the smallest SMB to the largest multinational - have had to make do with consumer-oriented mobile services. Mobile services and service innovation have focused on features tuned to consumer needs, not those of the business user.
"Industry itself has sort of been forced to accept this concept of using consumer-based cellphones and consumer base services for corporate use ," Andrew said. "It's an unfortunate thing that it's the way the industry grew."
But new wireless technologies, such as campus-based private spectrum deployments, are driven by enterprise needs, he said. To make these deployments work most effectively, enterprises need to be able to exert direct control over how mobile communications are used and secured on both the private and public networks.
Andrew cited the Tango Networks' Mobile-X service as a foundation for this new enterprise control capability. Mobile-X is the industry's first service that creates a Global Private Mobile Network that is exclusively controlled by an enterprise for its employees.
Mobile-X from Tango Networks is the centerpiece of a wide range of use cases, including Mobile Unified Communications, mobile workforce communications, and programs for remote working, work from home, telecommuting and business continuity.
"We're providing a network-based infrastructure essentially a SIM card for them that can be programmed on their private networks that they own and operate themselves under their own rules," he explained. "And in addition to that we give them the ability to go out onto the public network and they're still technically connected to their private network anywhere in the world."
Check out the video featuring Andrew's comments below:
For more information on Mobile-X and how it can serve as a foundation for migration to Private LTE, CBRS and 5G deployments, fill out the form below or shoot us an email at sales@tango-networks.com.