June 4, 2020
Mobile communications are increasingly out of the typical company's control as operators have not yet provided a path to rein these services in.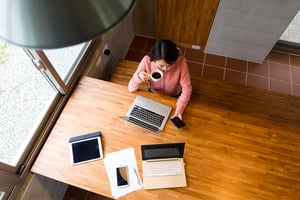 Mobile now dominates business communications, but mobile services still reflect their consumer roots.
As a result, companies tend to rely on over-the-top (OTT) app-based extensions to their unified communications (UC) environments to keep mobile communications within secure and compliant channels.
This OTT approach, however, brings real challenges and risks. It does not deliver what companies really need: a global, private mobile network that natively makes mobile devices part of a company's IT, security and UC environment.
Tango Networks' Mobile-X is filling this gap, however, with the world's first global private mobile network. Mobile-X gives companies complete control over their mobile communications with a true global-scale service on a cloud-based platform.
The UC via OTT App Problem Explained
Companies have invested heavily in UC solutions during a period where mobile has eclipsed terrestrial as the dominant mode for voice, text and data. This parallel development results in most mobile communications happening outside the well-defined governance, compliance and security built into UC platforms.
As companies deploy OTT extensions of their UC platforms, they find it difficult to contain users' communications habits within the app environment. Employees are driven by convenience and tend to use interfaces they already know, such as the mobile phone's native dialer and texting interface.
Because the OTT UC app is one of many and not native to the mobile device, risks and challenges come with it:
Risks increase because people use a range of OTT apps.
Skype, Zoom, WhatsApp, WeChat, LinkedIn and more are all part of the landscape, especially because of the surge in teleworking brought about by the global COVID-19 pandemic. But these apps pose huge risk for companies because they are outside of the security, compliance and management control of corporate IT. A
2019 survey
revealed that 77% of more than 300 North American compliance managers recognize text messaging, all of which happens outside of company control, as their biggest compliance risk.
OTT features and mobile devices' native capabilities live apart.
There's no simple way to integrate OTT UC apps with a mobile device's native capabilities. As a result, the user experience is not intuitive, requires extra steps, and doesn't lend itself to compliant behavior. Caller ID and voice mail live in a different world than the UC app's security and compliance features and corporate PBX extensions.

Employees take the path of least resistance.
If a customer calls an employee's mobile, she'll answer and capture the customers' contact info in her mobile device, but outside the UC app. The simplest way to reach back is through her local contact list, not the UC app. All such communications fall outside of the company's control.

Voice quality dictates behavior.
Voice traffic from non-native mobile apps isn't groomed or prioritized for quality on the network and so is not truly business quality. Employees will step outside the UC app for the best voice quality for important calls. This behavior again falls outside the company's ability to manage, secure, track and ensure compliance. As we have seen in the recent pandemic, voice traffic spiked dramatically as remote working has been implemented and remains the killer app for business communications.

Making Mobile Secure, Compliant, Global and Ready for Business
Operators are national and regional in nature, largely due to regulation. As result, though, they haven't delivered global-scale mobile services that align with many company's increasingly distributed footprints.
As we have seen in the recent pandemic, Teleworking, telecommuting, remote working, virtual workplaces and work-from-home strategies played a significant role in helping companies to enact social distancing policies while ensuring business continuity.
For many companies, mobile communications became the backbone of these teleworking and business continuity programs. This will become even more essential as many companies plan to make remote working a permanent option for some workers.
Because mobility is business critical, companies continue to take on more cost and supplier management complexity to acquire mobile services.
Tango Networks observed this growing problem and acted to fill the void with a global, native mobile solution that is the industry's first truly designed for businesses. Our Mobile-X gives a company its own global private mobile network, delivering:
Full UC environment integration.
With Mobile-X, every employee's mobile device is part of the company IT and UC environment, providing native Mobile Unified Communications. On startup, the mobile device authenticates into the company domain and is part of the UC solution, including directories, extensions, voice mail and other features.
It takes everything the desk phone did and makes it native to the mobile device, in the industry's most advanced implementation of Fixed-Mobile Convergence. This does away with the non-compliant usage of mobile devices that happens when employees are forced to use OTT UC apps. Mobile-X ensures that users have an intuitive, native device experience and that mobile communications are in control of company IT.
A scalable, intelligent, open and API-rich cloud platform.
Mobile-X can be consumed as a cloud service, just as companies wish to consume most other technology products and services today. Because it operates within the company's UC environment, it is secure, compliant and trackable across costs, services, usage and device management. For example, mobile communications recording can be implemented using the existing recording and archiving platforms that the company operates for landlines.
A global network footprint.
Mobile-X offers a single source for all mobile communications on a global scale, eliminating the need to negotiate, contract with and manage multiple providers in every region and eliminating the associated risks. There is one subscription for all employees and one SIM for employee phones.
A global mobility offering for CSPs.
Communications service providers can also roll out Mobile-X to provide a new, global, business-grade mobility platform that is tailored for creating very sticky business services.
With Mobile-X now in the market, the era of ungoverned, non-secure and non-compliant business mobility is at an end. Tango's Mobile-X has closed the gaps between operator offerings and corporate mobility needs to deliver a world first, true business mobile communications.
To learn more about this outstanding breakthrough and move your company into the world of global private mobile networking, fill out the form below or send us an email at sales@tango-networks.com.