September 14, 2017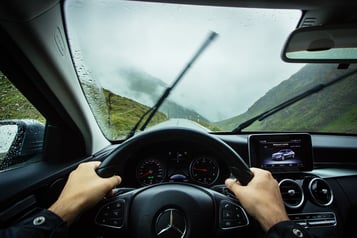 Last year's fatal crash of a Tesla on autopilot was caused in large part by overreliance on the vehicle's automation features.
That's the finding released yesterday by the US National Transportation Safety Board (NTSB) which investigates vehicle crashes and issues safety guidance.
And the hype around "self-driving" cars seems to have created a false sense of security that can lead to risky behaviors, says our CTO Andrew Silver in a series of articles published this week in American Trucker, a leading publication serving the trucking industry.
In June 2016, a driver using a Tesla car's autopilot feature was killed when his car hit a truck that was crossing the Tesla's path.
The NTSB cited the truck driver's error in not yielding the right of way along with the car driver's overreliance on the Tesla's automation and a lack of related safeguards as the probable causes of the crash.
"Smart people around the world are hard at work to automate driving," said the NTSB's chairman, "but systems available to consumers today, like Tesla's 'Autopilot' system, are designed to assist drivers with specific tasks in limited environments.
"These systems require the driver to pay attention all the time and to be able to take over immediately when something goes wrong."
Andrew's commentary in American Trucker makes the same points.
"The Tesla Autopilot feature along with the autonomous car initiatives of Google, Uber and a host of other companies have arrived at a time when the issue of distracted driving has become critical," he said.
Distracted driving – talking or texting on the phone - is highlighted by safety experts as a key contributed to a large increase in fatal motor vehicle accidents.
But the hype around "self-driving" cars could actually create more risk, Andrew wrote. "Why? Because today's semi-autonomous cars are a long way from 'automated driving' or 'driverless vehicles,' despite how they may be regarded in the popular imagination."
In the second piece of the series of articles, Andrew examines the autonomous vehicle technology levels available today and how sophisticated the system needs to be to let a driver text on a mobile phone or otherwise be distracted. An international standard ranks automation from Level 0 (no automation) to Level 5 (fully self-driving).
"It is only at the highest level of development, full automation at Level Five, that the system is sufficiently sophisticated to operate the vehicle without any human attention whatsoever," Andrew wrote. "That is the only point at which we can say it is truly safe to text and drive."
Our Mobile-X is the basis for our Responsible Driver System that enables companies to enforce responsible driving policies on their drivers. Contact us today to learn more about Mobile-X .
Mobile-X from Tango Networks brings next-generation fixed mobile convergence technologies to communications for the distributed workforce. Now workers in or out of the office can have seamless corporate communications, including Mobile Unified Communications, mobile workforce communications, and programs for remote working, work from home, telecommuting and business continuity.