October 12, 2023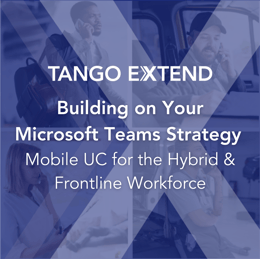 Microsoft Teams has become central to productivity-boosting communications for companies around the world. Join us for next week's Enterprise Connect Virtual Summit to explore how to bring native mobility to a Teams implementation with our Tango Extend solution.
Visit our virtual exhibition space at the Enterprise Connect Virtual Summit: Building on Your Microsoft Teams Strategy starting at 11 a.m. Eastern on Oct. 18.
There you will find examples of mobilized Teams use cases and overview materials, as well as our new explainer video and other content highlighting the power of Tango Extend.
You will learn how our Tango Extend solution is extending company-controlled mobile communications to Teams users and raising the productivity-boosting capabilities of Teams to a new level.
In addition we will be joined by our partner NTT to present a session on extending Teams to mobile devices.
Our presentation will examine Teams mobility from multiple angles to explore the options for any enterprise. Attendees will leave with a holistic understanding of the future of mobile business communication and the role of Tango Extend in spearheading end-user experience coupled with complete business control.
From 12-12:30 p.m., Tango Board Director Andrew Bale will be joined by Charlie Doubek, Vice President of Managed Collaboration and Communications for NTT Ltd. and NTT Data.
In this comprehensive webinar, Andrew and Charlie will delve into Tango Extend – the eSIM for Microsoft Teams. Tango Extend is a pioneering solution designed to natively integrate mobile endpoints with Microsoft Teams, and provide mobile UC for the hybrid and frontline workforce.
As the dynamics of the global workplace have evolved, businesses face challenges in maintaining high quality communications, upholding compliance, and championing sustainability.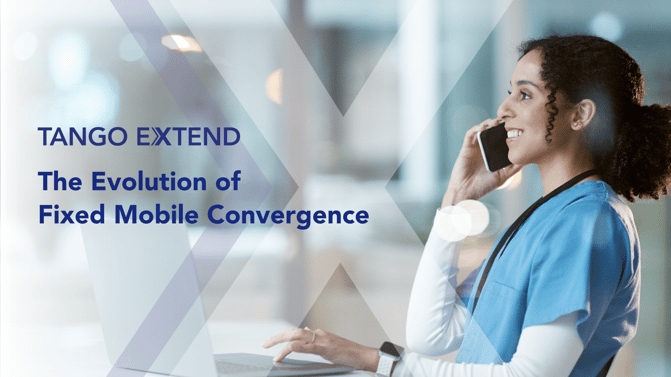 Employing the industry's most advanced implementation of fixed-mobile convergence technologies, Tango Extend unites fixed and mobile business communications, putting control of all business communications in the hands of the IT manager.
Andrew will emphasize the transformative potential of mobile-first collaboration, weaving together the benefits of high-quality mobile calls, BYOD in the business, and a mobile service that can be managed by the IT department.
In particular, Andrew will discuss the increasingly important mobile communications needs of the frontline workforce, such as delivery workers, repair staff, in-home care workers, retail employees and others.

Meanwhile, Charlie will offer a unique perspective on the rapid technological shifts witnessed during the pandemic. He will shed light on the importance of integrating communication methods, compliance, and how AI might play a pivotal role in the future of unified communications.
Drawing from his experiences with NTT Ltd. and NTT Data, he also will highlight the significance of Tango Extend in fostering mobile convergence and promoting business continuity in this ever-changing digital age.
Tango Extend can enable an enterprise user to add a business number to their BYOD personal mobile phone or a company-provided mobile phone, securely and almost instantaneously by simply scanning a QR code. It greatly improves end-user experience by allowing business calls to be made via the phone's native dialer, rather than via a UC app.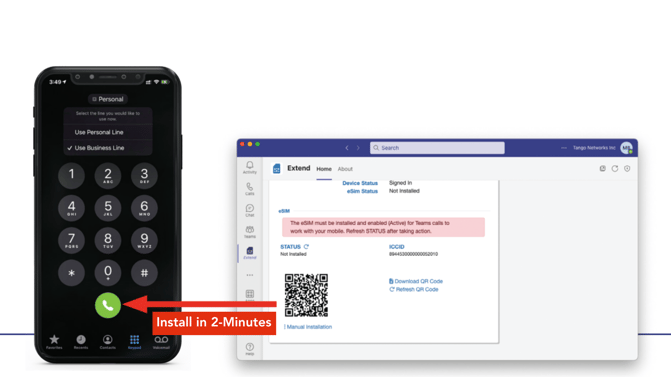 This "business line" on the mobile phone allows it to operate like an office desk phone with all the security and UC features available.
All business calls are routed by Tango over the mobile network to the UC platform, where standard calling policies can be applied, such as call routing, queues, international outbound restrictions and call recording. Meanwhile, all personal calls remain separate and private.
This resulting dual persona implementation means business calls are represented by the company identity and the Teams fixed line number even when the calls are placed using a personal BYOD phone.
Don't miss this comprehensive discussion and virtual exhibition about the groundbreaking mobile convergence options for Microsoft Teams. Register here to attend.