September 6, 2019
We've reached an era where it's no longer acceptable to be without your business phone. With today's competitive business environment, you had better be reachable and ready to take a call, even if you are down the street in the coffee shop.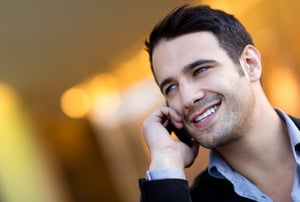 Aside from the added business cost of purchasing a second handset, a major downside to this is that many employees find carrying around two handsets a burden they don't want to bear.
The good news is, our new Second SIM Business Line Solution allows users to have the benefit of both a personal line and a business line within the same phone.
Sound complicated? Not at all!
The SIM simply slots into a user's dual SIM smartphone and instantly enables the phone to be a full-featured business line, without any interruption to their usual line, which remains a private SIM.
Dual SIM solutions help maintain brand values
It's easy to forget that business users' mobile handsets are fast becoming the way lots of businesses are run. For many companies cell phones are their main tools for sales, marketing, operations and finance. And being able to control how communications are handled from a security, consistency and usability standpoint is very important.
Supplying a business with a secure dual SIM solution phones ensures that:
Calls are secure, compliant and, if required, can use call recording
Billing can be handled in line with company procedures to ensure there are no fraudulent expense claims around data usage
Internal call directories can be utilised as well as hunt groups and other tools
Non-voice data such as emails, apps, and other tools can be used in compliance with company policy
Maintenance, upgrade, deployment and return of allocated handsets can be easily managed
Dual SIM phones keep everyone happy and productive
Many employees are loath to carry two handsets with them as they are keen to ensure they have access to all their private communications first and foremost. Asking people to carry two handsets, or to use their own devices for company communications is fraught with problems for security, compliance, billing and compatibility issues.
So the use of dual SIM devices gets around that easily. One handset, with a private and company SIM keeps both parties happy and productive.
Now Mobile-X from Tango Networks is the premier communications solution for companies implementing work-from-home, remote worker, teleworker, telecommuting, connected worker and business continuity programs. The solutions are made possible by the most advanced implementation of fixed mobile convergence technologies for the distributed workforce.
If you are a provider of communications services or products and would like to learn more about Tango Networks dual SIM systems, click here to learn more about our partner program.