July 6, 2023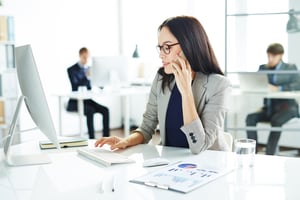 Now users of Microsoft Teams can utilize personal mobile phones to place Teams calls while maintaining easy separation between business and work communications.
Our breakthrough Tango Extend solution turns any personal phone into two separate phones by enabling an eSIM to be integrated into Teams and serve as a work extension. It's truly like carrying your Team's landline phone in your pocket.
Best of all, Tango Extend for Microsoft Teams requires no apps. Users can place all calls from the native dialer while simply and easily switching between the personal line and work line.
Bothered By BYOD
The Bring Your Own Device (BYOD) strategy has long been a blessing and a curse for corporate IT. On the one hand, letting users operate their own devices means less equipment the company has to buy and less training since users are operating devices they know.
But BYOD brings headaches as well. Users conducting business on personal phones will confuse customers and partners when using their personal numbers for business calls.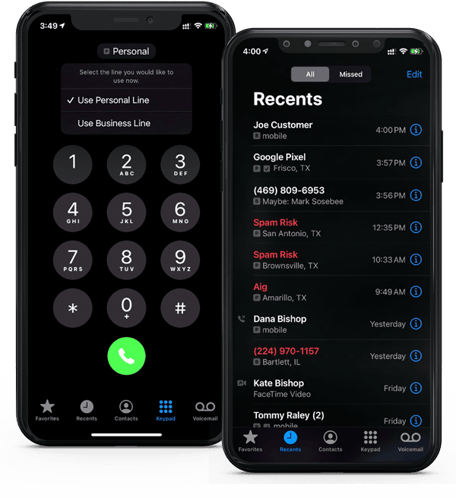 In some industries, like financial services, calls on personal mobiles that go unrecorded will violate records retention rules, exposing the company to potentially millions in fines.
Companies also bear the administrative overhead expense of reimbursing employees for the use of their personal devices.
Some companies have tried to overcome these problems by requiring employees to install and use on-phone apps to make business calls on their personal devices. Researchers have found that more than 94% of corporate users ignore these apps because they are inconvenient and hard to use. These apps are complex to manage, particularly if using Mobile Device Management systems to control their availability and use on a personal device.
In short, BYOD with personal phones seems more trouble than it's worth in many cases.
That all changes with Tango Extend's unique dual identity management features.
Work & Personal Identity Management
The key to truly practical BYOD is to make the user's work and business personas separate but easy to use on the personal phone. That means no apps, simple operation and ensuring the company has control over all business communications.
Our fixed-mobile convergence technology makes this a reality for the time.
Now with our new integration with Microsoft Teams, companies that utilize Teams Phone as their corporate unified communications can embed a Teams number into any mobile phone and turn the device into a native Teams extension.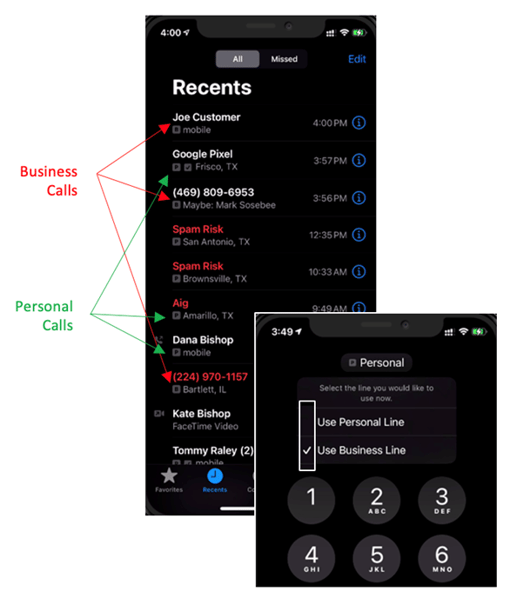 Extend is the first eSIM solution for Microsoft Teams to permit easy dual identity management with native integration into Teams. Users simply scan a QR code provided by IT and Extend provisions a Teams business line eSIM on the phone. This can be done in minutes, and In doing so, Extend creates dual personas or identities – personal and business – that are kept completely separate.
Once installed, the Teams-integrated eSIM uses the employee's Teams identity and number for communications.
Business calls carry the business identity and phone number, as well as other traditional landline features such as call hold and transfer. And when required, mobile calls can be captured and recorded for compliance regulations or for customer service quality assurance.
Users also get multiple benefits: there is no need to carry two phones and there's no need to learn and use an app. Employees and contractors can comfortably use their personal phones' native interfaces to easily transition between the two lines. And their personal communications remain completely private, secure and carry their personal identities at all times.
Mobile Unified Communications with BYOD
Incorporating groundbreaking fixed-mobile convergence technologies, Tango Extend is covered by more than 100 patents and has won more than 12 best new product and channel solution awards.
Businesses use Tango Extend for business quality mobile unified communications for work-from-anywhere programs, remote workers and employees working from home, the distributed workforce, deskless employees, and workers on the go.
Tango Extend empowers companies to transform operations, streamline collaboration reduce costs and boost employee productivity across the board. Learn more at tango-networks.com.