October 10, 2017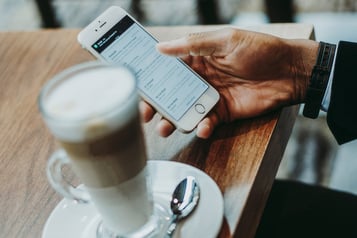 We're in a cord-cutting world when it comes to communications.
We're cutting the cord at home. In the US, more households now have only mobile phones than have wireline phones.
We're cutting the cord in our daily lives. A total of 95% of US adults have a cell phone of some type, according to Pew Research Center. Similarly, 94% of adults in the UK use a cell phone.
For years now, the number of mobile phone subscriptions has exceeded the population in many countries, as people have both personal and work mobile accounts. The World Bank reports that cellular subscriptions worldwide exceeded the world's population for the first time in 2016.
And we're cutting the cord at work even as we evolve our workstyles. According to Deloitte, a majority of workers in the UK use a personal phone for business purposes outside of normal working hours.
So how do we adopt cord cutting in our businesses? How do we take advantage of the flexibility and reachability of mobility without introducing security risks or compliance violations?
Many businesses have begun going "mobile first," making the mobile phone the primary communications tool for employees. That means they can retire traditional wireline desk phones, adopt new styles of working remotely, and enhance employee responsiveness outside of conventional work hours. Teleworking, remote working, virtual workplaces and work-from-home programs are increasingly critical to the operations of many businesses and "mobile first" strategies can boost these programs.
But there are a range of important considerations for deploying and managing mobility in the business context.
Here are four best practices for going mobile first in your business.
#1 Enable business calling features on mobiles
Business-class communications have evolved over the past century. It's now expected that a phone used for business communications should be able to transfer a call, put a call on hold, set up a conference call, reach coworkers via in-office extension dialing and other features.
Your mobile-first implementation should make such features available to users on mobile devices to ensure that communications continue to have business-grade professionalism and polish.
#2 Ensure mobile communications remain compliant
A range of compliance rules and regulations govern communications in many industries.
In finance, you may be required to capture and save the communications related to a financial transaction. In healthcare, you may be required to demonstrate that patient data is kept in control, secure and private.
In many consumer-focused businesses, workforce management and customer experience processes require customer calls to be monitored and analyzed.
A mobile-first implementation must ensure that these communications remain in compliance even when they take place remotely and outside traditional business hours.
That means integrating mobile communications into the tools, processes and workflows used for your communications compliance and security today.
So evaluate how you will implement mobile call recording, policy enforcement and similar compliance requirements on mobile devices just as you would on traditional wireline communications. Ideally, the same processes and tools can be used on both.
#3 Keep business & personal separate
Research shows that employees often make personal calls on business-issued mobile phones and business calls on personal phones.
It's a good rule of thumb that employees will use whatever device is handy to get either a business or a personal task done.
The requirement then is to manage user identities and policy enforcement depending on whether a communication is personal or is for work. This is especially important for companies that have chosen to implement Bring Your Own Device (BYOD) programs that permit the use of personal mobile phones.
For example, business calls made from a personal device should carry your business number and Caller ID information. A business call that should be recorded for compliance purposes should be captured and archived even when it is made using a personal device.
Similarly, a personal call made on a work device should not be captured and recorded by your compliance systems. In fact, in some jurisdictions, maintaining the privacy of personal communications is a matter of law.
#4 Integrate mobile communications into workflows
Business applications and workflows have reshaped how critical functions operate. Workforce Optimization (WFO) tools ensure customer engagement is high quality and efficient. Customer Relationship Management (CRM) products track sales engagement to accelerate deal closure.
Because mobility creates the opportunity to maximize the efficiency and immediacy of communications, your mobile communications should be aligned and synchronized with these workflows and business applications wherever possible.
Going Mobile First: Mobile-X
Our Mobile-X provides a simple, easily deployed way to adopt the four best practices in going mobile first:
Mobilized communications: Turn any mobile phone into an extension of your communications systems, like putting a desk phone that you control into your employees' mobile phones.
Compliant mobile communications: Use your existing compliance systems and processes to enforce policies on your employees' mobile communications, including call recording and privacy.
Dual identity management: Keep personal and business calls separate and controlled. Automatically ensure that business calls from users on mobile devices are identified with your business name and Caller ID. Automatically permit private communications to remain private.
Workflow-driven mobile communications: Synchronize and integrate your employees' mobile communications with the processes and workflows that drive your business. For example, you can seamlessly integrate mobile devices into your WFO solutions for superior customer engagement.

Mobile-X from Tango Networks is a key enabling service for modern business communications, including Mobile Unified Communications, mobile workforce communications, and programs for remote working, work from home, telecommuting and business continuity. The service brings next-generation fixed mobile convergence technologies to communications for the distributed workforce.
Click here to arrange a demo of Mobile-X and learn how it will enable you to more easily go mobile first.