May 11, 2018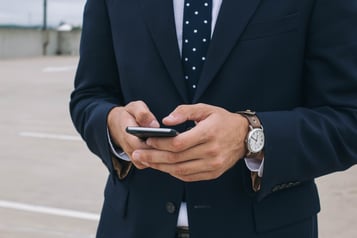 A new European regulation goes into effect on May 25 that can have a major impact on how your enterprise mobility program operates.
The General Data Protection Regulation (GDPR) focuses attention on company responsibility to comply with the privacy rights of employees, customers and others who use their IT and telecom systems.
It will also spotlight the importance of managing employee mobile communications.
GDPR mandates that companies meet a host of requirements, such as demonstrating consent for consumer data handling and processing. Its premise is that individuals have rights protecting private data and communications.
Businesses must balance these privacy needs with their own industry regulations regarding communication recording and archiving compliance, such as those found in the finance and healthcare sectors.
And many companies also record and monitor communications for quality, customer experience, analytics and training purposes as well.
Alongside this big compliance balancing act, businesses are trying to take advantage of ever-increasing employee mobility.
For companies permitting Bring Your Own Device (BYOD) phones, meeting all of these requirements can be especially complex.
Companies worldwide have made employee mobility a cornerstone of their operations, tapping the power of smartphones to increase employee reachability, flexibility and productivity.
A successful mobility program enables mobile devices to activate corporate communications as though the workers were on company landlines. Further, these mobile communications can be routed through corporate monitoring, recording and archiving systems to ensure compliance with industry requirements or corporate quality policies.
But what if the communications on employee mobile devices include private communications involving individuals who have not given their consent for their information to be collected and processed?
The answer lies in the process of user identity management or Dual persona management, which enables you to keep your employees' work communications and personal communications separate.
The approach means that work calls on mobiles will carry your company number and company identity, and are routed to your systems for compliance, recording and similar operations.
But when an employee places a personal call on the phone, it is identified with the employee's personal cell number and caller ID, and is left private, untouched and proceeding on its own through the mobile network.
That way your compliance with GDPR for those employee personal calls is confirmed at the outset. Your systems never process the personal calls and so GDPR privacy protection is confirmed. But business calls can be routed to your recording and quality analytics systems for compliance.
These capabilities are how our Mobile-X boosts your compliance with privacy regulations like GDPR while enabling mobile call recording where it is required and appropriate.
Mobile-X from Tango Networks is the centerpiece of a wide range of use cases, including Mobile Unified Communications, mobile workforce communications, and programs for remote working, work from home, telecommuting and business continuity.
Check out this demonstration of dual persona management using Mobile-X.
Contact us today for a personal demo of Mobile-X.