March 27, 2017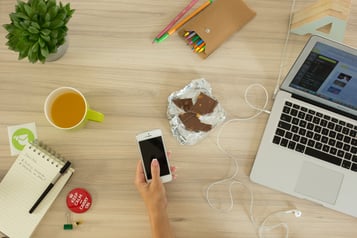 The contact center is an essential part of any large consumer-facing organization. That's why we're excited about our expanding partnership with Verint to deliver mobile communications that support optimized customer engagement including your contact centers. You can see more about these new solutions at Enterprise Connect in Orlando this week.
If you rely on voice communications with customers to take orders, arrange delivery or handle problems, then the interaction of your contact center agents with the public is mission critical. That's why improving contact center processes and measuring quality have become a major focus of customer experience management.
But while there has been so much attention paid to contact center workflow and processes, there has been relatively little focus on how mobile technologies can revolutionize a contact center's communications and performance.
Mobile devices have had a major impact on virtually every other aspect of how we do business. They have improved employee reach and responsiveness. They have enabled us to work from home, remote locations, or in transit.
To truly make your contact center the best it can be, you need to consider whether you are taking full advantage of these mobile communications technologies.
Our partnership with Verint allows you to integrate the power of true mobility with your Workforce Optimization (WFO) initiatives, including those that raise your contact center effectiveness to the next level.
Mobile-X from Tango Networks synchronizes corporate mobile communications with your contact center processes.
Consider these contact center improvements that are possible with Mobile-X:
Communications can be seamlessly coordinated across customer service representatives, contact center staff, customer support, field service technicians and other users, including people on personal mobile devices.
Contact center agents can automatically conference in subject matter experts on call, even if the experts are on their personal mobile devices.
Calls on mobile devices by remote users can be logged, recorded and analyzed by the same archiving, compliance and analytics systems that you use with landlines phones.
Communications made from mobile devices can be automatically logged with the right records and process steps in your Customer Relationship Management (CRM) or customer care system.
Mobile communications can be perfectly synched with your customer care workflow, so the right communications tool in available at the right stage of the customer care process.

Mobile-X from Tango Networks is the centerpiece of a wide range of use cases, including Mobile Unified Communications, mobile workforce communications, and programs for remote working, work from home, telecommuting and business continuity.
Don't miss the launch of our new Customer Experience Management solution this week at Enterprise Connect in Orlando! Register here or use code TANGONET on the main registration site to save an additional $500 off advance rates to Enterprise Connect!
Stop by booth #2408 or click here to book a meeting with us to see our new mobility solution for superior customer experience.