December 9, 2021
We have announced a collaboration with Console Connect by PCCW Global to enable on-demand native business mobile communications services.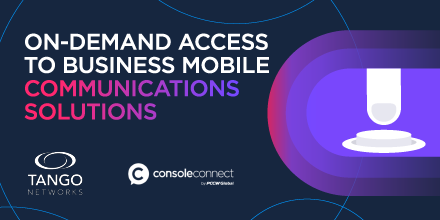 The collaboration combines Console Connect's fast, secure and on-demand connectivity with Tango Networks' Mobile-X mobile communications service, enabling businesses to quickly and easily configure and deploy native mobile services from wherever they are located.
The Mobile-X service helps businesses integrate their mobile phones seamlessly into Unified Communications (UC) platforms without the need for any additional software or applications.
Communications resellers, service providers and enterprises can use the Console Connect Software Defined Interconnection® platform to create private and direct connections to a UC environment, improving overall network performance and security. The automated Console Connect fabric is underpinned by PCCW Global's private, low latency IP backbone, which is one of the largest MPLS networks in the world.
Tango Networks' Mobile-X service will be directly available to Console Connect users through the platform's new MeetingPlace feature. MeetingPlace enables users to meet, buy and sell within a growing ecosystem of cloud, data center, SaaS, UCaaS, IX and IoT partners, while making on-demand virtual interconnections between apps, services and one another.
Learn more about the collaboration:
https://tango-networks.com/latest_news/console-connect-by-pccw-global-collaborates-with-tango-networks-to-create-on-demand-access-to-business-mobile-communications-solutions/