January 18, 2019
Text messaging is rapidly becoming the communications application of choice for many people.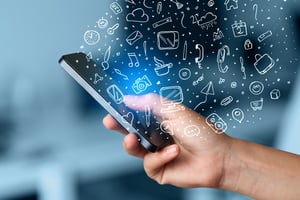 Gallup researchers report that Americans under age 50 prefer text messaging to all other forms of communications.
Not surprisingly, teenagers are most frequently cited as avid users of text messaging. One recent study even found that most teens prefer texting with their friends over communicating face-to-face.
And many businesses have been exploring establishing text messaging as a chief way of communicating with customers and partners.
So it's really no surprise that even our most sensitive communications - such as those involving financial transactions - are moving into the text realm as well.
"Should you text your clients?" asks an article by Jessica Mathews this week in Financial Planning, a publication geared toward financial advisors.
The issue, the article points out, is that communications related to financial transactions are regulated communications and in many jurisdictions must be captured and archived. FINRA, MiFID II, Dodd-Frank and other rules and requirements mandate that such communications are properly recorded.
In December, the US Securities & Exchange Commission released a "risk alert" statement and guidance to remind financial advisors of the requirement to record communications related to financial transactions. "(The SEC's compliance office) conducted this initiative because it noticed an increasing use of various types of electronic messaging by adviser personnel for business-related communications," the SEC said in the statement.
The challenge for financial services firms that want to unlock text messaging communications with clients is that the typical mobile messaging communication will take place outside the view of your compliance tools and recorders.
Short Message Service (SMS) texting is a function native to the mobile network. The key is to bring these communications into the scope of your compliance tools. The Tango Networks' solutions for Enterprise Text Messaging can:
Enable your users to send mobile SMS messages from their business numbers

Retain your users' business identity throughout communications with customers and external parties

Permit centralized recording of text messages to ensure compliance with FINRA, MiFID II and other requirements
In addition, our solutions can translate IM messaging into SMS and ensure that these communications are properly documented. For example, many customers who have Cisco Jabber deployments have SMS-text-enabled their Jabber users with our solutions, converting Jabber's IM messaging into SMS texting for communication with external parties.
Tango Networks' Enterprise Text Messaging solutions put you in control so you can enforce compliance with communications monitoring, recording and archiving requirements.
Mobile-X from Tango Networks is the centerpiece of a wide range of use cases, including Mobile Unified Communications, mobile workforce communications, and programs for remote working, work from home, telecommuting and business continuity.
Contact us today to learn more.