January 31, 2019
Enterprise mobility is taking centre stage at this year's Mobile World Congress in Barcelona.
While previous generations of mobile services have focused on the needs of consumers, industry analysts say the new generation of mobile services is geared to enterprise businesses.
"Businesses require secure and effective mobile solutions to support a productive mobile workforce," says Raúl Castañón-Martínez, Senior Analyst, Workforce Collaboration and Communications, at 451 Research.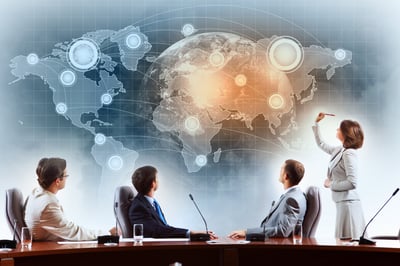 "That's why we are seeing a 'second wave mobility' emerging now. While 'first wave mobility' centered on the needs and interests of consumers, the new wave is focused on enterprises with distributed work environments that demand better communications flexibility, tighter application integration and stronger security."
We're excited to demonstrate one of the industry's first "Second Wave Mobility" offerings at MWC19, from February 25th to 28th in Barcelona.
Join us at stand 6I28 to see the latest evolution of our offerings to support your Mobile Unified Communications and Compliant Mobile Communications Recording requirements.
Integrate all your telephony
Based on our recent acquisition by Tango Networks, our new offerings will be the industry's first to seamlessly integrate "mobile native" voice, text and data communications with enterprise telephony and applications.
That innovation will give enterprise customers a ubiquitous, global communications fabric covering all employees in any location.
Now Mobile-X from Tango Networks is the premier communications solution for companies implementing work-from-home, remote worker, teleworker, telecommuting, connected worker and business continuity programs. The solutions are made possible by the most advanced implementation of fixed mobile convergence technologies for the distributed workforce.
If you're going to MWC19, we'd love to meet you and arrange a demonstration of our new solution. To set up a meeting call us on +441133971100 or fill in the form below. We look forward to seeing you there.