December 11, 2019
Text messaging is increasingly a preferred way for many of today's consumers to interact with businesses.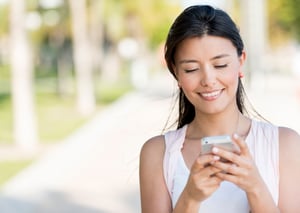 Now resellers of Cisco Collaboration tools like Webex Teams and Cisco Jabber can enable their business customers to use SMS texting to communicate with anyone on any mobile phone.
Marketing channel effectiveness research shows that SMS text messages have a 98 percent open rate, which is a sign of how responsive people are to the immediacy of texting communication.
The question is how a business will take advantage of the conversational power of the texting communications channel.
If you are a reseller of Cisco Collaboration solutions such as Webex Teams, then you can now offer your business customers the ability to use their internal collaboration tools for texting with the outside world.
Our SMS Texting Solution for Cisco Collaboration enables corporate users of Cisco Webex Teams or Cisco Jabber to send and receive SMS text messages on mobile networks.
That means your business customers who use Jabber or Webex Teams solutions can communicate with anyone on any mobile phone: customers, patients, clients, students, partners and anyone else in the outside world.
Our cloud-based service seamlessly converts Jabber or Webex Teams internal collaboration messages into external SMS messages. The messages are pushed to the mobile network where they can be received by anyone on an SMS-capable phone. The messages come from the company's business number.
Inbound messages on the mobile network are converted into Jabber or Webex Teams messages for the employees to receive and respond to. The messaging can be captured and recorded on archiving, monitoring or compliance systems.
Incorporating a breakthrough implementation of fixed mobile convergence technologies, Mobile-X from Tango Networks dramatically improves mobile communications for a distributed workforce, including Mobile Unified Communications, work-from-home, remote worker, teleworker, telecommuting, connected worker and business continuity programs.
Fill out the form below to learn more about this opportunity for Cisco Resellers.