December 14, 2017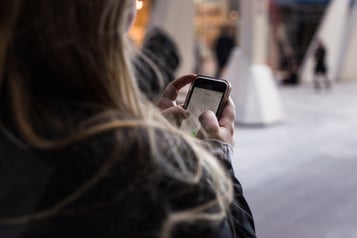 We've made our workplaces mobile, tapping the power of smartphones to increase employee reachability, flexibility and productivity.
But are we crossing an important regulatory line regarding privacy in how we manage communications that may contain personal information?
The "work anywhere and anytime" culture is here. Companies around the world have made employee mobility a cornerstone of their operations.
That includes enabling mobile devices to be used to remotely access company applications, make business calls and generally communicate just as if you were sitting in the office instead of in the airport lounge.
But alongside this increase in employee mobility, regulations and best practices regarding privacy have grown increasingly strict.
Case in point is the General Data Protection Regulation (GDPR) that goes into effect in Europe in May 2018.
The GDPR mandates that individuals have rights protecting private communications. That includes your employees, customers and others who may use your company's IT and telecom systems. To comply with GDPR, companies need to meet a host of requirements such as demonstrating consent for calls to be recorded or similar types of data handling and processing.
But at the same time, regulators require communications in many industries to be recorded and archived for compliance purposes, such as in financial services. And many companies will record and monitor communications for quality, customer experience, analytics and training purposes.
How do you balance these requirements, to capture communications while ensuring privacy at the same time? How do you maximize the benefits of mobility while confirming that private communications remain private? If you permit Bring Your Own Device (BYOD) meeting these dual requirements can be especially complex.
The answer lies in "dual persona" management.
Dual Persona Management
Dual persona management means that you manage your employees' work and personal personas on IT devices and keep them separate.
For example, let's say an employee places a business call on their personal mobile phone. A dual persona management system will enable the caller ID information on that business call to be your business number and company identity.
But when the employee places a personal call on the phone, the system should allow that call to be identified with the employee's personal cell number and caller ID information.
Further, an effective dual persona management system will enable you to keep business calls within your control for compliance, recording and similar operations, while leaving personal calls untouched and proceeding on their own through the mobile network.
That way your compliance with GDPR for those employee personal calls is confirmed at the outset. Your systems never process the personal calls and so GDPR privacy protection is confirmed. But business calls can be routed to your recording and quality analytics systems for compliance.
These capabilities are how our Mobile-X boosts your compliance with privacy regulations like GDPR while enabling mobile call recording where it is required.
Mobile-X from Tango Networks brings next-generation fixed mobile convergence technologies to communications for the distributed workforce. Now workers anywhere can have seamless corporate communications, supporting Mobile Unified Communications, mobile workforce communications, and programs for remote working, work from home, telecommuting and business continuity.
Check out this demonstration of dual persona management using Mobile-X.
Contact us today for a demo of the Kinetic Communications Platform.