April 24, 2017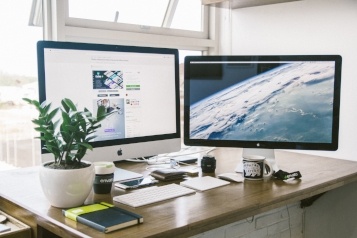 The business world is still buzzing about the PR fallout from United Airlines' recent removal of a passenger from one of its flights. Fortune and The Wall Street Journal reported this week that United's corporate clients are pressuring the company to improve its customer service.
But most customer service issues never explode across the headlines like United's has. In fact, the overall customer experience with your company is the sum of lots of small interactions and impressions:
How easy is it to learn about your products, services and prices?
How simple and satisfying is each customer service interaction with your staff?
How polished and responsive are the phone calls and communications with the contact center and field service employees?
These of course are the focus of customer engagement, workforce optimization and quality assurance programs.
But a "blind spot" in these programs is how employees communicating on mobile devices can affect the overall customer experience.
Good and Bad
The power of positive customer experience has been in the spotlight for a number of years. As Harvard Business Review reported, it's well documented that happier customers are simply more profitable. This has led many companies to invest heavily in tools, processes and training to improve the overall customer experience.
The difference between a good and bad customer experience can have a huge impact on the bottom line.
Bain & Company found that a 5% increase in customer retention can increase your profit up to 95%.
On the flip side, a Harris Interactive poll found that 89% of consumers will defect to your competitor if they have a negative customer experience with you.
And one of the blind spots in the customer experience improvement processes at most companies is how customer communications are managed and monitored for quality assurance across all the customer touch points.
Many companies have established call monitoring, quality control and training for contact center agents on landline systems. Yet these same quality improvement processes do not extend to the mobile devices used by remote agents and service crews in the field.
The Mobility "Blind Spot" in Customer Experience Management
It's kind of strange when you think about it. Mobile devices are everywhere in business today and used constantly, but they are usually out of the scope of our quality assurance process.
Mobile device penetration in the workplace has skyrocketed over the last decade. Employees often turn to their mobile device first when communicating.
This new mobility has changed how we work. Some companies employ contact center agents who are in remote, distributed locations. Technical experts for customer support may be on call with their mobile phones, ready to engage when a customer service issue is escalated. Field service workers on the go will communicate with customers and colleagues on mobile devices.
Yet the typical quality assurance monitoring and recording systems don't encompass these mobile devices. The quality assurance systems are usually integrated into the IT or telecom department's centralized communications systems for landlines.
But mobile devices operate outside these systems, and instead are operated and supported by external wireless service providers. That means they are outside of the scope of control of the quality assurance programs.
Addressing the Blind Spot for Customer Service
Let's say a customer has a problem or concern with your product.
They call the customer support number and after being on hold for a few minutes they are connected to an agent working in your contact center facility. Suppose the agent needs to schedule a field service technician to visit the customer's home to resolve the problem. The agent schedules the appointment and the call is complete.
So far, so good. If your company has implemented a centralized contact center recording and monitoring system, then this call was captured by the system for review and to address any quality issues.
But on the day of the appointment at the customer's home, the field technician uses his mobile phone to call the customer to give an estimated time of arrival and to get directions. If he can't find the address he makes a second call. While on site, he might need to call someone else in the company to get help troubleshooting a problem and order a part.
All of these interactions with the customer and to help resolve the customer's problem take place outside the scope of the centralized contact center recording and monitoring for quality assurance.
But what if they didn't? What if your communications systems could treat the field service technician's cell phone exactly as if it were a landline extension in the contact center?
That's the benefit of Mobile-X from Tango Networks.
Mobilized Customer Engagement
Mobile-X extends the quality assurance process to mobile devices, including personal devices as part of a Bring Your Own Device (BYOD) program. You can use the exact same central recording, monitoring and analytics products that manage quality assurance with your landline phones.
Now your customer service quality improvements can encompass mobile devices used by your remote employees and those in the field.
And Mobile-X brings many additional benefits to these communications:
Calls from employees on mobile devices, including BYOD, can come from your main corporate customer service number, for consistent company identity.
Personal calls and business calls are automatically handled separately, ensuring employee privacy and business communications professionalism.
Standard business calling features like inter-office dialing and forwarding can be operated on the mobile device just as if it were a landline extension in the office.
In industries where call recording and archiving is a regulatory requirement, communications on mobiles can be captured exactly like those on landlines.
These and many other capabilities make Mobile-X an essential part of your communications tools for enhancing the customer experience and delivering more profitability to the business.
Mobile-X from Tango Networks is the centerpiece of a wide range of use cases, including Mobile Unified Communications, mobile workforce communications, and programs for remote working, work from home, telecommuting and business continuity.