August 24, 2017
d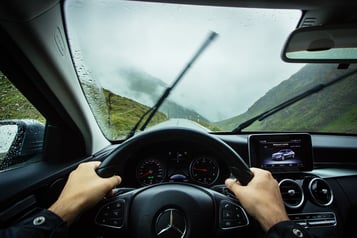 Over the past several years, motor vehicle deaths in the US escalated with the greatest increase in about 50 years.
That's the finding released by the National Highway Transportation Safety Administration (NHTSA).
The National Safety Council also reported on the trend, indicating that distracted driving – including drivers distracted by mobile phone calls and texting – is one of the most significant contributors to accident risk.
In recent years many jurisdictions have made mobile phone use while driving illegal. But the statistics show that the problem apparently is getting worse, not better.
Apple plans to include a "do not disturb while driving" function in an upcoming version of iOS. But like similar features available on Android phones, these driving safety functions are generally dependent on a user to activate and not override them.
Autonomous vehicles have been hailed as a solution to the problem. But we are still many years away from true self-driving cars. The standards on vehicle autonomy show that even today's most sophisticated production models are not at a level that can allow a driver to be safely distracted.
Until then, how do we stop the distracted driving crisis?
Responsible Driver System
These matters are especially important to fleet operators and companies that run field operations, logistics and other businesses that require trucking and roadway transport.
If you run a fleet or trucking operation, then the ideal solution would be for you to directly enforce safe driving policies on your drivers' mobile communications.
That's what Tango's Responsible Driver System makes possible for you today.
Built on the powerful, flexible capabilities of Mobile-X, the RDS is a network-based policy enforcement solution. That means your policies restricting mobile call and text usage by drivers are enforced in the network, not on the device itself.
That means you have control and that drivers cannot circumvent the policy. You can determine that phone usage is permitted at certain times or at certain speeds and the network-based solution enforces the policy on your drivers' phones. The solution works on both personal devices and company-issued phones. Drivers can still place emergency calls while driving thanks to a special bypass option.
Featuring the most advanced implementation of fixed mobile convergence technologies, Mobile-X from Tango Networks supports many use cases for a distributed workforce, including Mobile Unified Communications, mobile workforce communications, and programs for remote working, work from home, telecommuting and business continuity.
Contact us today for a demonstration of Mobile-X to learn more.