November 13, 2015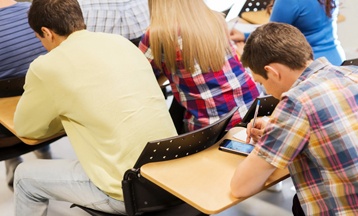 In the last few weeks you probably saw that video of the school police officer in Spring Valley, South Carolina, and the high school girl.
In the clip that has been shown over and over again on various news shows, we see the policeman tip over the desk with the girl in it, haul her out of the desk, and put handcuffs on her. It has sparked a lot of conversations about whether the officer did what was necessary or was way too overzealous.But what a lot of people missed in their focus on this video was how this whole incident got started. From what we've learned, the girl was on her mobile phone in the classroom, and refused to end the call at the request of her teacher. That escalated to calling the principal in, and then the school police officer as she continued to defy them. As you saw, it didn't end well.The thing is, with the right technology this incident might have been completely preventable. Our Campus Control system is designed to give schools the power over student mobile phone use during the school day.
Whether it's undesirable phone calls or distracted texting or mobile-aided cheating, there are a lot of bad reasons for students to have mobile phones. But because there are good reasons – emergency calls, contacting parents – there needs to be some accommodation.
What network-based Campus Control does is link mobile phones to a "school policy server" that puts usage policy control into the school administration's hands. It does this through integration between the mobile network and the school's communications and scheduling networks.
Campus Control, which works with any mobile phone, lets school authorities identify specific student and other mobile phones as subscribes, establish that a student is in school and scheduled to be in class, control the ability to communicate during classes, and enable certain approved communications (such as from student to teacher or in student groups). It can also establish usage policies within specific locations.
There is an Emergency Mode that enables schools to mass-notify all campus mobile users when needed, as well as manage congestion by restricting non-essential calls and activating targeted communications, such as to or from faculty or students in a particular classroom.
Kids always have and always will be rebellious, but at least with Campus Control, their use of mobile phones as tools can be limited.
Download the latest Trend Advisor on Mobility for the Modern Enterprise.