November 1, 2018
More and more consumers want to use text messages to communicate with companies. And more and more companies are listening.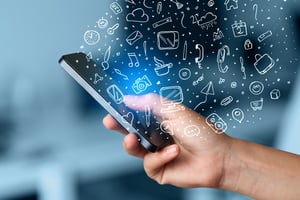 Research by Facebook shows that consumers in a range of markets strongly prefer text messaging with businesses over other modes of communication.
Alaska Airlines just announced text messaging for customer service.
Technology journalists are reporting that communicating with companies by text messages can yield better customer service outcomes.
These examples are why text messaging is increasing viewed by many companies as a "must have" channel for communicating with customers.
How easy is it to send and receive text messages from your business numbers?
Check out this new demo video of our new Enterprise Text Messaging solution, which creates a powerful new way for your company to engage with customers, partners and others.
Powered by Tango Networks' Mobile-X platform, this solution demo shows how an employee's smartphone can be Enterprise Text enabled, allowing the employee to communicate by text messages with a customer via a business number.
Our solution is a turnkey cloud-based service that enables mobile network SMS text messages to be sent and received with your company's existing business phone numbers or on new SMS-enabled numbers.
Mobile-X also integrates SMS messages seamlessly into your corporate communications infrastructure, including your communications security and compliance tools. This ensures business SMS text communications can be compliant with monitoring, recording, and archiving requirements, such as those mandated in the financial services industry in many places.
Our Enterprise Text Messaging solution also enables Unified Communications messaging clients to send SMS text messages. For example, Cisco Jabber users can send Jabber instant messages that Kinetic Cloud converts to SMS text on the mobile network, allowing Jabber users to communicate by text message with anyone, on any mobile phone.
Mobile-X from Tango Networks is the centerpiece of a wide range of use cases, including Mobile Unified Communications, mobile workforce communications, and programs for remote working, work from home, telecommuting and business continuity.
Check out a demonstration of our Jabber SMS texting solution:
Book a personal demo today to learn more: