November 10, 2017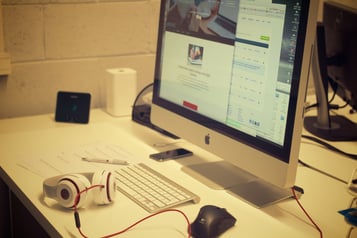 Modern business applications have revolutionized how companies get stuff done.
Modern mobile devices have radically changed how, when and where that stuff gets done.
But combining enterprise mobility with business applications can raise both innovations to an entirely new level.
Let's look at some use cases showing how mobile-enabled business applications can bring major efficiency gains and promote more nimble operations.
Use Case: Mobile-Integrated Optimization
Workforce Optimization (WFO) business applications can greatly increase the efficiency and quality of interactions with your customers.
Typical WFO functions may include customer call monitoring and recording, to ensure interactions are professional and of high quality and to pinpoint areas for improvement and training. WFO is often deployed for call center agents and others using wireline desk phones as part of a customer care or call center operation.
WFO can reach a new level, however, when it is extended and integrated with your employees' mobile devices. So, for example, WFO quality monitoring can be extended to the mobile devices used by field service technicians as they go on customer calls.
Or customer care technical specialists can be on-call on their mobile phones for special cases, and these interactions can be captured and analyzed by your WFO just like those on traditional wireline phones.
Use Case: Compliant Mobility
Compliance requirements often mandate that certain types of businesses must record and archive certain calls. For example, companies in the financial services industry must record calls related to financial transactions, to be compliant with regulations such as MiFID II in Europe and Dodd Frank in the US.
But the typical call recording tools in use at most enterprises don't capture the calls that employees make on mobile phones, because those phones operate on a separate network out of the control of the enterprise IT team.
That is changing thanks to mobile call recording solutions that enable you to use these call recording tools on your employee mobile communications, ensuring that all compliance-affected communications are properly accounted for.
Use Case: Mobility Synchronized Apps
Nowhere is mobility more prevalent than in sales. In fact, it's a safe bet that most company's sales people are early adopters of mobile technology because it provides such important benefits like reachability and responsiveness.
At the same time, companies have invested in Customer Relationship Management (CRM) applications that provide sales teams with process flows and record-keeping tools that simplify the sales process and promote better closure rates.
The issue is that these tools often require a lot of record entry and updating, which takes time away from selling.
But a best practice is to automate that record-keeping by integrating mobile devices into the CRM process flows. So, for example, a call by a salesperson to a customer can be automatically pushed into the CRM system for logging, including the attachment of notes added by the salesperson.
Mobile-X: mobility for business applications
At Tango Networks, we've helped thousands of business mobility users to get the best out of both their business applications and mobile communications.
Our Mobile-X enables:
Contact us today for a demo of how Mobile-X delivers better mobility for your business applications.