November 14, 2017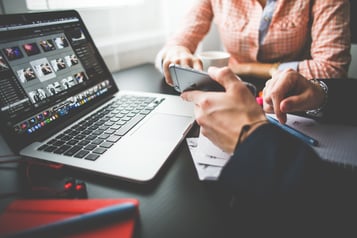 Customer experience management (CXM) and customer engagement programs are all about ensuring your customers are delighted with your products and services.
Researchers continue to report that companies investing in CXM regularly outperform the average business.

Some companies view CXM as an extension of Customer Relationship Management (CRM), while others have adopted Workforce Optimization (WFO), contact center workflow tools and field services management as the centerpieces of their CXM efforts.
Whatever your CXM strategy is, it's important to ensure that your CXM processes and workflows take into account your company's mobility strategy as well.
Based on thousands of corporate user mobility implementations, here are three best practice considerations for implementing CXM with your mobile workforce.
1. One consistent company identity
If your employees call customers from mobile phones, who does the customer think is calling?
Say a field service technician is contacting a customer while on the way to a service appointment. What does the customer see in the in-bound caller ID? Is it your company's name and number? Or is it some random phone number that the customer doesn't know and won't answer?
The best implementations of CXM ensure that all business calls to customers are identified with your corporate identity, regardless of which device your employee is using.
2. Mobility synched with CXM processes and workflow
CXM, WFO, CRM and other customer experience management tools have their own sets of workflows, tasks and steps that your employees should follow to deliver a superior customer engagement.
But today's mobile workforce is not always going to be using the traditional wireline desk phones. So while your contact center agents at their desks might be linked in to the WFO system, for example, what about employees on the go, field service technicians and others on mobile devices?
The best practice is to ensure that your WFO and other CXM processes and workflows can extend to cover mobile devices just like they do the wireline desk phone.
3. Extend call monitoring, call recording and quality processes to mobility
A key function in many CXM programs is the monitoring and recording of calls with customers. These recordings can yield important insights into customer satisfaction, training needs and similar quality assurance considerations.
Yet mobile devices are typically out of scope for call recording and quality analytics systems. This mobility blind spot means that some unknown portion of your customer contact with employees is taking place outside your CXM processes. The best practice is to bring mobile devices into the CXM processes and ensure that calls to and from employee mobile devices are captured by these systems.
Mobility for CXM and WFO
Our Customer Engagement Mobility solution enables you to quickly and easily adapt these best practices for mobility to strengthen your CXM and WFO programs.
Based on our award-winning Mobile-X, the solution extends your existing CXM and WFO systems and processes to mobile devices, including personal devices as part of a Bring Your Own Device (BYOD) program.
Mobile-X from Tango Networks brings next-generation fixed mobile convergence technologies to communications for the distributed workforce. Now workers anywhere can have seamless corporate communications, supporting Mobile Unified Communications, mobile workforce communications, and programs for remote working, work from home, telecommuting and business continuity.
Contact us today for a demonstration of how Mobile-X brings mobility into your CXM and WFO programs.