November 30, 2017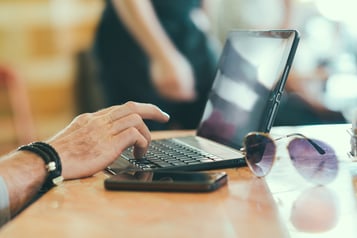 As businesses have shifted to Unified Communications, a sometimes overlooked benefit – and potential blind spot – can be mobile communications.
The first VoIP systems arrived more than 20 years ago as the first unified messaging and voice systems became available. It was the groundwork for what we now call Unified Communications.
Now the challenge is how you manage enterprise mobility and the fact that your employees are radically changing when, where and how they work.
Are you following these four best practices for combining Unified Communications with mobility?
1. Are You "Mobile First?"
Just about all of us own some form of mobile phone.
There is nearly 100% penetration in some countries. And in the US last year, smartphone adoption was more than 80%.
Smart businesses are incorporating the mobile devices their employees know, love, and want to use into their UC systems and going "mobile first."
Our increasingly mobile workforce is most likely using those devices whether you've provided for a Bring Your Own Device (BYOD) program or not.
If you haven't extended your UC systems to include mobile devices, you could be risking a host of security and compliance issues.
A mobile first strategy can examine the use cases, user experience and migration path to mobile phones as a company's primary UC device. It could permit companies to get rid of landline desk phones, which could save a lot of money and also improve employee accessibility and flexibility.
By using our Mobile-X, companies can go mobile first without sacrificing business calling features or policy control and compliance.
Our platform enables you to integrate mobile phones seamlessly with your existing UC systems, managing mobile devices just like they are landline extensions.
2. Is Your System Simple?
If a system is overly complex, employees won't use it. It's the top reason for failed UC deployments.
You're looking at poor adoption if you ask employees to use multiple apps and devices for different locations or to take multiple steps to perform simple tasks like transferring a call. That then leads to multiple rounds of user training, support tasks and similar problems.
If you strip the complexity from your UC deployment, you'll have much more success. Many companies that have gone mobile first have made mobile phones their primary communications tool for their UC systems.
They in some cases have implemented BYOD, allowing workers to use the devices they're already familiar with and that will require little further training.
Mobile-X provides important features for keeping UC simple, both for your administrators and the users.
By automatically coordinating different UC calling platforms from different vendors, the Kinetic platform simplifies the use of features on mobile devices in multi-vendor environments.
Your workers can use the mobile features they're familiar with to place business calls through your UC systems and activate business communication features with the Kinetic platform.
3. Is policy compliance a "No Brainer"?
No doubt, there are legitimate concerns slowing companies from embracing full UC including the mobility aspect.
The need for policy compliance and security doesn't go away because communications become mobile. And in some industries, there are laws requiring recording and archiving of communications.
You may need to audit and validate security controls of communications carrying protected information. These could include users in the financial, health-care or legal fields.
In trying to adopt mobile devices as part of their UC plan, some companies have implemented special apps or clients that users must activate on their mobile phones to remain in compliance.
But these complicate the process for users and lead to slower adoption. Users may try to do "end-runs" around the rules to save time, and the training sessions add even more wasted time to their busy days.
Mobile-X makes it a "no brainer" for employees to stay in compliance on any mobile phones.
All business mobile calls are routed through your UC systems, meaning you can monitor, record, archive and audit them with the same security and compliance tools you use on your landline desk phones.
Employees can use their mobile devices simply and intuitively while you enforce compliance policies in the network itself. Click here to learn more about mobile communications compliance with .
4. Is Your Workforce Optimization Mobile Inclusive?
As workforce optimization (WFO) becomes critical to success, companies are too often overlooking mobile devices.
WFO focuses on process workflows, resource access, collaboration tools, and troubleshooting for efficient operations and superior customer experience. It also studies how communications between employees and customers are managed.
When mobile devices are overlooked, they become a blind spot for the WFO deployment. If you're only focusing on landline desk phones, you're missing out on the communications tool that is becoming increasingly important.
But if you expand your WFO to include mobile devices, your WFO and UC plans complement and reinforce each other.
Customer communications can be routed directly to the correct people in the correct mode. In turn, because their jobs are made easier by UC and WFO working in tandem, your employees are more likely to use the UC tools you want them to use.
By using Mobile-X, your existing WFO and quality assurance controls encompass the mobile devices used by contact center agents, customer-care specialists, field service technicians and others.
Check out our Customer Engagement Mobility solution to learn more about how WFO and mobile customer engagement can be complementary.
Now Mobile-X from Tango Networks is the premier communications solution for companies implementing work-from-home, remote worker, teleworker, telecommuting, connected worker and business continuity programs.
See for yourself how Mobile-X can help you get more out of your UC deployment. Contact us today for a personalized demonstration.