October 21, 2022
This week we announced expanded support for eSIMs with our Tango Extend mobile unified communications service. At the same time, we won the "Unified Communications Solution of the Year" for the third year in a row in the Mobile Breakthrough Awards.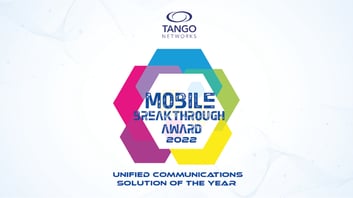 Why is our approach to fixed mobile convergence grabbing such attention? It's because of innovations like the industry's first Business SIM and our eSIM touchless activation.
Extend offers the industry's simplest and most flexible way to bring mobile unified communications to the entire distributed workforce of any company. The service embeds a full-featured, secure and controlled business extension on employees' Bring Your Own Device phones or on a corporate liable phone without any apps or special configuration. Users can activate a business line in their personal phones simply by scanning a QR code.
Our CEO Douglas Bartek puts it this way: "Now any personal phone can be turned into a fully secure and controlled business communications device,. Gone are the days when employees had to buy and issue mobile phones to employees, who in turn had to carry two phones. Now one device does it all while keeping business and personal communications completely separate and secure."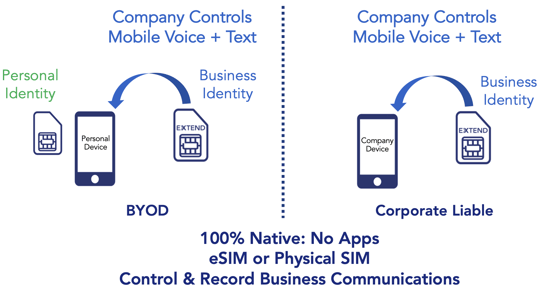 In announcing the award yesterday, James Johnson, Managing Director of Mobile Breakthrough, described the solution as perfect for today's work-from-anywhere, hybrid work models.
"Tango Extend makes BYOD phones truly ready for business for the first time," James said. "Employees can communicate just like they have a desk phone in their pocket, with true Mobile Unified Communications. Congratulations, for the third straight year, to Tango for being our choice for 'Unified Communications Solution of the Year!'"
See our new eSIM support announcement here and the Unified Communications of the Year Award announcement here.
Extend integrates an eSIM on the mobile phone into the company's communications platform, such as a UCaaS service. When used on a personal BYOD phone, the service separates personal and business communications into two personas.
Business calls and texts automatically use the business number and the company can capture and record the communications for retention or monitoring. Meanwhile all personal calls and texts use the personal identity and number and remain completely private and secure.
Covered by 100 patents, Extend is the industry's most advanced implementation of fixed mobile convergence technology. The service is mobile native, using the mobile network and the device's native interface for all communications and features. That means it requires no apps or special phone clients and no training. The service offers superior, business-quality communications not possible with over-the-top VoIP.
Businesses use Extend for Mobile Unified Communications, Mobile First and Mobile Only communications, and work-from-home, hybrid and work-from-anywhere flexibility. It brings fully integrated business communications to mobile employees, deskless employees and frontline workers, many for the first time.
Tango Extend is sold solely through our network of value-added resellers and service providers. Fill out the form below to learn more