July 12, 2019
Smartphones with dual SIM cards are the hot trend for business users. It's easy to see why.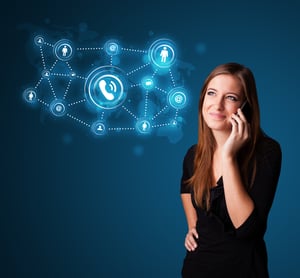 With traditional, single SIM phones many people were forced to carry two phones, one for work and the other for personal communications.
With Dual SIM phones that hassle goes away because one of the SIMs can be dedicated to business communications.
Our new Second SIM Business Line Solution is a service that provides SIMs that a company's employees can plug into their dual SIM phones.
That Second SIM becomes the business line for each employee and is in direct control of their IT department.
If you manage communications for business users, the Second SIM is like having a regular desk phone extension that you can manage in each employee's smartphone.
You can control costs and call routing, manage PBX or Unified Communications features, enforce policies, and monitor and record business calls and texts made on the Second SIM.
Meanwhile, the employee's original SIM remains a personal SIM. All their personal calls and texts operate as before and remain private, so there are no concerns about violating privacy rules and regulations.
The user experience with Second SIM is intuitive and simple, enabling the employees on their mobile phones to activate business features like hold, call forward, in-office short dialing, and others.
The newest Dual SIM phones are amazingly feature-rich, giving business users the ability to be more productive no matter where they roam.
As a result, Second SIM becomes a key part of empowering the mobile workforce and enhancing productivity and efficiency. Teleworking, remote working, virtual workplaces and work-from-home programs are increasingly critical to the operations of many companies and a Second SIM can enable seamless business communications for these workers.
It advances company strategies like "Mobile First" and "Mobile Only" that make mobile phones the centerpiece of business communications.
Fill out the form below to learn more. If you are a provider of communications services or products, click here to learn more about our partner program.