October 25, 2018
Financial services organizations face increasingly complex challenges in complying with regulatory requirements, according to Verint, which today announced the expansion of its Financial Compliance Partnership Program.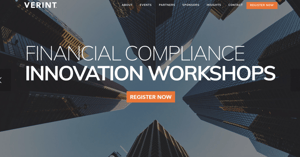 Tango Networks is excited to be part of this expansion of Verint's compliance program, highlighted at a series of Financial Compliance Innovation Workshops being held now and into 2019 in Zurich, London and Frankfurt, among other locations around the world.

Incorporating a breakthrough implementation of fixed mobile convergence technologies, Mobile-X from Tango Networks dramatically improves mobile communications for a distributed workforce, including Mobile Unified Communications, work-from-home, remote worker, teleworker, telecommuting, connected worker and business continuity programs.

"As regulatory requirements under Dodd-Frank in the U.S. and MiFID II and MAD II / MAR in Europe place stricter, more extensive and more geographically diverse regulations on financial services organizations," Verint's announcement said, "Verint's Compliance Partner Program represents a united approach to help ensure companies are effectively addressing the challenges in maintaining compliance."

The workshops will focus on:
Proactive Compliance – prevent non-compliant activities from occurring and remove the need for "after-the-fact compliance."
New ways of working – unlock the benefits of state-of-the-art solutions while driving enhanced value from your legacy data.
Super-charging Oversight and Analytics – with data from multi-modal unified communications (such as Skype for Business and Cisco Jabber), speech analytics, and AI-based assurance.
Automation – Verifying compliance or monitoring transactions shouldn't be time and resource-hungry task anymore.
Sustainable Transformation – Take a holistic approach, reduce complexity and increase compliance effectiveness - sustainably.
Click the links below to learn more and register for the workshop most convenient for you:
Learn more about the Zurich workshop.
Learn more about the London workshop.