June 30, 2022
Tango Networks is cited as a mobile unified communications pioneer in a new research note from TalkingPointz focusing on UCaaS Mobility 3.0.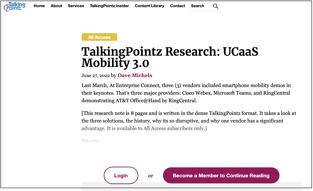 In the piece, Principal Analyst and Founder Dave Michels provides a concise but detailed account of the evolution of mobile unified communications over past decades.
Dave parses the trend into three technical phases, starting with UC/UCaaS Mobility 1.0 built on rudimentary call forwarding and basic fixed-mobile telephony integration. The second phase, UC/UCaaS Mobility 2.0, was marked by implementation of OTT UC apps on users' mobile phones.
His analysis leads up to the most recent Enterprise Connect conference at which no fewer than three keynote addresses — by Cisco, Microsoft and RingCentral — included UCaaS mobility as a chief area of innovation.
Dave labels this era as UCaaS Mobility 3.0, which he describes as "a potential game changer" because it blurs the lines between UCaaS and cellular technologies. In particular, Dave cites the integration of the native mobile phone dialer into enterprise UCaaS systems as a chief innovation of Mobility 3.0.
"UCaaS Mobility 3.0 is poised to be very disruptive over the next decade," Dave writes. "It blurs and merges the cellular and UCaaS industries with an entirely new value proposition that impacts customers and channels. The disruptive potential of UC Mobility seems largely underappreciated."

Of the UC vendors analyzed in his note, Dave describes Cisco's Webex Go as representing a "more modern" approach to UCaaS Mobility 3.0. That's because it leverages standardized roaming techniques to simplify interconnection with mobile operators and to permit easier integration of a user's mobile phone with a company's UC implementation.

About Tango Networks, Dave cites our work in pioneering fixed-mobile convergence that permits the mobile phone's native dialer to be used for enterprise UC.
"Tango Networks has been interconnecting enterprise and cellular networks for a decade," he writes. "Its solutions powered enterprise capabilities with Sprint, AT&T, BT, and more. Tango was selected for the Innovation Showcase at Enterprise Connect 2017 for its creative approaches to using the native dialer."

Read more by getting the comprehensive research note here (subscription required): https://talkingpointz.com/talkingpointz-research-ucaas-mobility-3-0/