March 23, 2023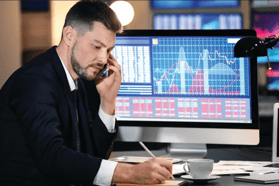 Mobile phone technology has recently experienced a quiet revolution in the SIM management department. The result is bringing about a profound change in how mobile devices are used for business.
Original Equipment Manufacturers (OEMs) such as Samsung and Apple have for a long time now offered device support for more than one SIM card.
One of the leading drivers was low-cost travel SIMs which can be used to reduce roaming bill shock. Two physical SIM cards in any device take up a lot of real estate – so most recently, the OEMs have replaced at least one SIM card slot with an electronic version of the SIM card – called an eSIM. Apple has gone even further, and the iPhone 14 actually supports only eSIMs, without any physical SIMs!
eSIMs are just as secure as physical SIMs, but are a whole lot faster and more convenient to install. There's no plastic to manufacture and get lost in the mail and the days of safety pins and tweezers to replace these cards are gone. Physical SIM card trays often don't go back in properly, leading to frustration, potentially broken phones and no mobile service.
While cheap travel SIMs are still popular for travelers, it's on home ground that the other main advantage of eSIMs really comes into its own: revolutionizing mobile communications for business users.
Tango Networks has created an eSIM for business users, directly connecting to existing enterprise UC platforms. This puts the IT manager in control of all business calls made from the eSIM, as each business call to and from the eSIM will transit through the company's UC platform. In other words, the mobile becomes just like an office desk phone, with the UC platform handling all the business calls.
The advantage of using an eSIM is in the vastly improved user experience. Previous attempts to integrate mobiles with UC relied on special phone apps. But users strongly disliked these apps, which were a pain to operate and utilized the data channel of the mobile network, resulting in low quality, "best effort" calling. This is why research shows that less than 5% of business employees required to use an app actually comply and do so.
But eSIMs are a game-changer because now the native dialer can be used to make these calls, resulting in an intuitive and easy user experience. And the calls use the native network service for superior voice quality that is truly business class.
The advantages of having such capabilities are numerous, but they mostly center around those of convenience and cost-effectiveness.
The Convenience of Dual Persona
The major benefit of eSIM technology is that businesses can issue eSIMs instead of company-owned smartphones. Nobody wants to carry two large smartphones – one for personal use and another one just to make business calls!
It's hugely costly for the business and inconvenient for the employee. The Tango Extend eSIM can be added to an existing personal mobile phone, creating a new and separate business identity on the same device. The OEMs have put a huge amount of work into ensuring that the experience of managing the two mobile subscriptions on a single device is secure, segregated, and easy to use.
So now, every business can support the use of Bring Your Own Device (BYOD) phones with dual lines and dual personas: business and personal.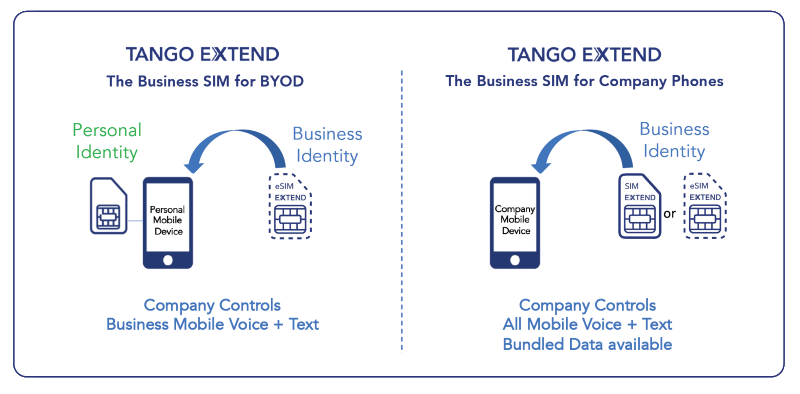 The biggest advantage is that an employee or contractor already has a phone he or she likes and uses regularly, whether Apple or Android. Having an eSIM allows the person to have two different phone lines, one for business and one for personal use, on that single device. Now these employees, who previously probably did not have access to the corporate UC platform, can use company communications, significantly increasing business collaboration and improving the professional integrity of communications with customers and suppliers.
Provisioning the eSIM is highly efficient. The IT department merely has to email a QR code to the employee, who then scans it with their camera, and the phone then installs the new subscription and business persona. Within 2 minutes, the employee is able to make and receive business calls using the UC integrated business number. For an incoming call, the user can select to take the call on their office phone, laptop, or natively on the mobile phone.
Lastly, employees don't have to spend hours poring over call records and claiming expenses for business calls. The eSIM separates all business and personal calls, and the employer pays for calls made using the Tango Extend eSIM. This cuts administrative overhead for both the employee and the accounting department.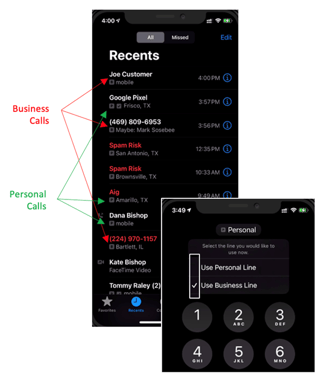 The Economic Value of Dual Persona
A large enterprise with hundreds or thousands of employees and/or contractors used to have to provide company phones for a tranche of qualifying employees. Smartphones are now highly capable devices and have become very expensive. Employers now have to shell out as much as $1,000 per employee for a business phone, and then there's no guarantee that the employee won't just stick the phone in a drawer and just use their personal device when making a business call.
A Tango Extend eSIM eliminates that commercial risk. Recent estimates suggest that an eSIM on a BYOD would typically save businesses between $40-$60 a month by removing the need for a dedicated company-provided mobile phone. And if an organization wants to reduce the number of desk phones and move more to a Mobile First strategy – making mobile devices the primary form of business communications - then the savings would increase significantly.
Now, everyone from the CEO to frontline workers and even frontline staff can have a business identity on their own personal phone, as it is now cost-effective to drive business telephony far deeper into the workforce.

Our Solution
In summary, Tango Extend:
Lets IT managers configure mobile phones as a standard office endpoint on the office phone system.
It can be deployed as a business SIM in either personal or company-provided mobile devices.
Reduces dependence on unreliable UC apps.
Significantly reduces costs and carbon footprints by reducing desk phones and company-owned mobiles and reducing expense handling overhead costs.
Uses eSIM technology for speed, accuracy, and convenience of deployment.
Ensures that the business phone number is always used to place business calls.
Keeps personal use separate from business use.
Supports recording all calls made to and from the business SIM, which is mandatory for some sectors, such as financial services.
Tango Extend is the Business SIM and all you need to provide everyone with business communications on a BYOD. Get in touch to see how Tango Extend really is the quickest, most efficient, and most cost-effective solution to mobilize your company communications.