August 14, 2019
If you have been in business for more than a few years, you remember when mobile phones became important business tools.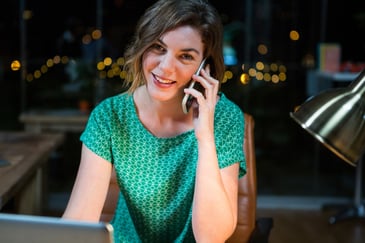 For a long time, everyone seemed to be carrying two mobile phones: a personal phone and a second one for business.
Some people are still doing this. And now that phones have gotten much larger, it's often the case of carrying two huge smartphones around.
But now that Dual SIM phones are widely available, you can stop carrying two phones.
Our new Second SIM Business Line Solution enables one of the SIMs in a Dual SIM phone to be a full-featured business line.
If you manage IT for business users, it's just like your employees are carrying their office desk phone in their smartphones.
Our service provides SIMs that your employees can plug into one of the phone SIM slots. That SIM is in direct control of your company IT and is the business line for the employee.
Now the IT department can:
Control costs and call routing, manage PBX or Unified Communications features and enforce policies on usage.

Monitor and record business calls and texts made on the Second SIM.

Keep perfect separation between personal and private communications. The employee's original SIM remains a personal SIM and all those communications remain private.

Give employees mobile communications that are very intuitive and simple to operate, with business-class features

like hold, call forward, in-office short dialing, conferencing and others .
Plus business users can now take advantage of a range of powerful features in the newest Dual SIM phones, boosting productivity across the distributed workforce.
Mobile-X from Tango Networks brings next-generation fixed mobile convergence technologies to communications for the distributed workforce. Now workers in or out of the office can have seamless corporate communications, including Mobile Unified Communications, mobile workforce communications, and programs for remote working, work from home, telecommuting and business continuity.
Fill out the form below to learn more. If you are an IT reseller, MSP or CSP offering business services, click here to learn more about our partner programs and service bundling opportunities.