November 18, 2021
The hottest trend in business communications is the adoption of mobile phones for work-from-anywhere programs. No other device delivers the same level of business quality communications in as many places as the mobile phone.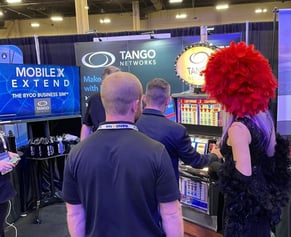 That's why our turnkey Mobile-X Extend service was highlighted at this month's Channel Partners Expo in Las Vegas.
Resellers of UCaaS and other business communications services are tapping major new revenue streams by reselling Mobile-X to mobile-enable their offerings.If you resell business communications solutions and did not get a chance to attend Channel Partners to see Mobile-X Extend in person, you can still schedule a personal demo using the form on this page.
Making BYOD Ready for Business
Mobile-X Extend takes advantage of new eSIM technology now available in a wide range of mobile phones.
It uses a second SIM to embed a business line into any Bring Your Own Device (BYOD) personal phone, with no apps or user training. That means your business customers can extend business communications that they control to their employees on personal phones no matter where they are working.
BYOD has been a blessing and a curse for businesses and employees for 20 years now.
The upside of BYOD is that permitting employees to use personal mobile phones for work cuts costs by reducing company-paid mobiles. BYOD also ensures employees are reachable and responsive on devices they know and like.
But the drawbacks are numerous. Employees on personal devices communicate with personal numbers and identities, not the company's identity. Communications are outside of company control, with no way to record or monitor calls for regulatory or policy reasons. Expensing business calls on personal devices creates costly overhead.
Despite these headaches, one survey found that 56% of smartphone owners use their mobile devices at work.
Some companies try to solve these problems by requiring employees to use Unified Communications (UC) apps on their phones. But these apps deliver poor performance and are ignored by over 90% of users, according to research published by Nemertes.
Tapping eSIM Innovation
Today's phones that support multiple SIMs solve the BYOD conundrum, making personal devices truly business ready for the first time.
Eliminating the need for office phones and clunky apps, our Mobile-X Extend is the communications industry's first BYOD Business SIM service.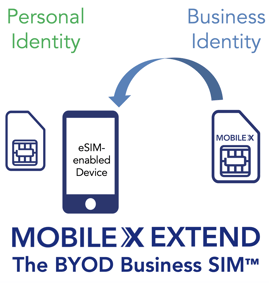 Our service gives a business secure and compliant control over one of the SIMs in an employee's personal phone. The other SIM remains personal and private.
That means personal and business identities are entirely separate and protected. Mobile-X Extend integrates the Business SIM into the company UC platform or UCaaS services.
That allows all business calls and texts to use a business number and identity and be captured and recorded for archiving or monitoring if needed. Meanwhile, all personal calls and texts remain private and external to the company systems and control.
Mobile-First, Work-from-Anywhere Communications
This reinvention of mobile communications allows employees working in any location to be more productive and responsive. They no longer must carry two phones if they previously had been issued a company phone.
With Mobile-X Extend, businesses can reduce landlines and expensive desk phones. They can cut the huge expense of buying, managing and upgrading company-paid mobile phones.
By converging communications devices using a mobile first strategy, businesses can reduce their carbon footprints while shrinking administrative costs associated with expensing business calls on personal phones.
Mobile-X Extend is based on our award-winning fixed-mobile convergence technologies, the foundation of Mobile Unified Communications, Mobile First and Mobile Only communications. Businesses use it to streamline operations with work-from-home, hybrid and work-from-anywhere flexibility.
The service also brings fully integrated business-controlled communications to mobile employees, deskless employees and firstline workers.
We sell this service only through channel partners. Want to learn more about this exciting new channel opportunity? Just fill out the form to learn more: