July 5, 2019
Mobile communications are critical to today's business world.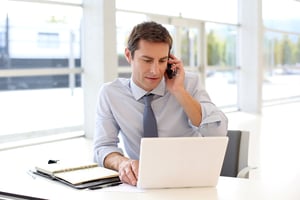 The key is to make sure your mobile communications are as polished and professional as traditional landline business communications.
Wouldn't it be great if you could carry your desk phone in your mobile phone?
Now that dual SIM phones are widely available, you can.
Our Second SIM solution provides you with a SIM that serves as your business number and is directly integrated into your business phone service, PBX or other communications platform. Now you can:
Activate business communications features on your mobile phone, such as holding, call forwarding and short code dialing,
Maintain perfect separation between your business and personal communications.
Enforce compliance requirements like call recording on your business calls without affecting your personal calls.
Fill out the form to learn more about Second SIM for your business communications.
Now Mobile-X from Tango Networks is the premier communications solution for companies implementing work-from-home, remote worker, teleworker, telecommuting, connected worker and business continuity programs.
Are you a solutions reseller interested in delivering unique mobile solutions to your clients? Click here to learn more about our world-class channel program benefits.