May 2, 2019
Mobile phones are the communications devices of choice for pretty much every employee in any type of company.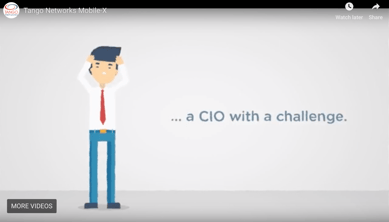 The question for the CIO is how you let employees use mobile communications while maintaining control over costs, compliance and policies.
Traditional mobile services like voice, messaging and data are out of the CIO's direct control. You have to let Mobile Network Operators manage those services. So you can't control costs or routing, can't enforce recording rules, and can't ensure other policies are being followed.
But Tango Networks Mobile-X solves these mobility headaches. It's the industry's first mobile service truly tailored to the needs of your business
Mobile-X from Tango Networks harnesses next-generation fixed mobile convergence technologies for better mobile communications for the distributed workforce. Now workers anywhere can have seamless corporate communications, including Mobile Unified Communications, work-from-home, remote worker, teleworker, telecommuting, connected worker and business continuity programs.
Check out our new overview video to learn more:
Fill out the form to see how Mobile-X will put you in control of mobile communications once and for all