May 17, 2023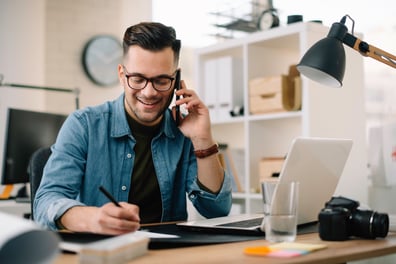 After two decades of false starts, Fixed Mobile Convergence (FMC) has finally reached its prime as a business communications solution.
FMC is defined as the integration of mobile communications with fixed communications systems and applications used by a business.
The irony is that it took the pandemic coupled with the collective drive to "mobile first" business communication strategies to make FMC truly viable.
And FMC's prime may be short lived. One could argue that true FMC arrives just in time to become obsolete, as more and more companies retire the fixed landline in favor of going "mobile only."
Our Tango Extend service has become the centerpiece of FMC deployments across many industries because of its ability to natively integrate mobile phones as extensions of a company's UC platform.
But a look at how FMC fell short in years past gives us insight into where business communications is going next and the role FMC will play.
The Mobile Afterthought
Rewind to the early 2000s. Unified Communications (UC) was all the rage in enterprise communications innovation. UC promised to integrate voice, messaging and collaboration for enterprise communications into a simpler, more powerful tool to boost productivity.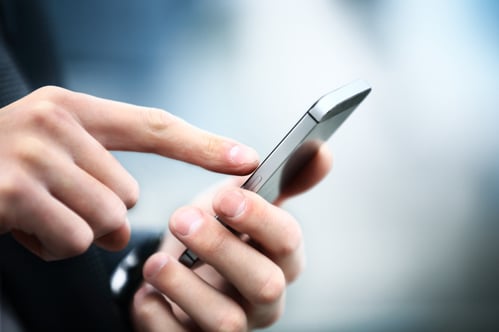 UC would make the job of managing these applications dramatically easier and unlock new powerful user experiences such as communications handoff, collaboration and messaging across applications.
This vision was largely realized as vendors including Cisco, Microsoft and Avaya poured resources into driving UC forward.
But one market development made these UC implementations less than ideal: the explosive growth of the mobile phone.
UC market momentum was driven mostly by companies that created and sold increasingly sophisticated desk phones and added a range of ancillary features to try to create differentiation of their products. UC applications were largely tuned to deliver fixed communications in and between office environments.
But shortly after UC deployments and market growth gathered steam, mobile phones began a meteoric rise in adoption.
By the time the century's first decade drew to a close, Apple and Android devices were bringing about a permanent change in consumer communications. "Cord cutting" started killing residential fixed lines. It became clear that the next phase of UC – "mobile UC" – would need to account for these increasingly common devices.
Many businesses started to buy a limited number of staff a business mobile device with a business calling plan. These were and still are very expensive. Plus although the business mobile number is owned by the enterprise, mobile calls bypass the main UC platform, so there is separation between the office and the mobile domains.
UC vendors took the most expedient route to offer mobility with UC. They created apps for mobile phones that mimic desktop phones and appear as an extension to the UC platform, with a shared number. While most VOIP apps are free, there are significant issues with their adoption, and they fall way short of offering a business class solution for workers out of the office.
Hence FMC was born through this attempt to integrate mobiles with the fixed enterprise infrastructure. And, because mobility played second fiddle, FMC would suffer a troublesome childhood.
Apps Fall Short
In 2020, around a decade after mobile UC apps started coming into widespread use, industry analyst firm Nemertes Research conducted a survey of more than 525 businesses to learn how mobile UC deployments were progressing.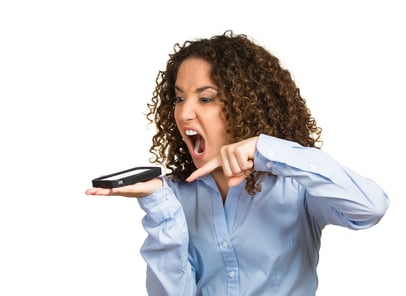 The results were startling. Among companies where IT management directed users to operate UC apps on their mobile phones, the adoption rate was less than 6%.
The analyst firm's report detailed numerous reasons for this poor adoption, such as poor call quality because the apps are based on VoIP. Chief among the issues is simply that users prefer the native dialer because they find the app to be inconvenient, unreliable and difficult to use.
The practical implication of Nemertes' findings is that more than 94% of business calls taking place on mobile phones are using non-company numbers and identities and cannot be captured or recorded for archiving,
So the introduction of the on-phone VOIP app as an implementation of FMC fell far short of the goal of mobilizing UC.
Native Mobile UC Fixes FMC
A new revolution in mobile technology now is fixing FMC and making it truly business ready.
As a result of the poor mobile experience available to business users, Tango Networks began developing a mobile network which was fully integrated into all the major UC vendors platforms. This allows all mobile calls to be routed via the call control platform, and enables mobile communications to be managed in the same way, with the same policies as the office based telephony and UC.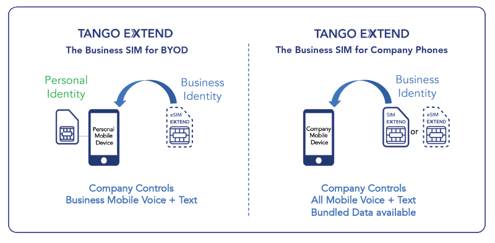 The solution supports both physical SIMs and eSIMs. It enables users to operate their phones' native interfaces and place business calls on their personal Bring Your Own Device phones. Activating a new business line with the eSIM is as easy as scanning a QR code.
Now, business users no longer need to carry two phones. They have a secure and controlled native business extension embedded in one phone. When somebody makes a call using Tango Extend, their company name appears on the caller ID as if the call was made on a landline.
The service gives a businesses' IT manager the ability to see and manage the native mobile device on the mobile network. But importantly the service is 100% native and requires no apps.
The concept of shared control over the mobile estate is embedded in our company name. Like a tango dance, mobile communications can be an elegant interplay between the mobile network and enterprise IT.
Now with more than 100 patents on the technology, we have rolled out our newest version of the service, Tango Extend, taking advantage of new eSIM support in modern phones to allow remote provisioning of new users in minutes rather than days.

Any business using Extend can cut landlines and the high expense of buying and managing company-paid mobile phones. Plus, users no longer have to go through the time and hassle of submitting claims for business calls because the IT manager has a record of all calls.
Conference, hold and other business functions are easy and intuitive. Tango Extend does not depend on unreliable mobile data and apps for voice calls. Native mobile network voice and SMS services deliver top-quality communications without using VoIP.
The only question is whether companies will care about maintaining landline communications at all. Extend makes mobile UC so intuitive and simple, users will likely all want to go "mobile only" and use their mobiles exclusively.
And so perhaps FMC's golden age of business deployments will be short, as companies realize the "fixed" part of the concept needs to be retired altogether.
Get in touch to see how we can help your business seamlessly transition into a mobile-first or mobile-only worldusing Tango Extend.